Petrichor, The Cavendish Hotel, 81 Jermyn Street, London SW1 6JF www.thecavendish-london.co.uk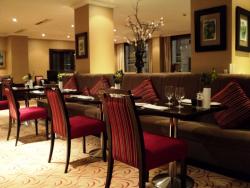 Although running parallel to Piccadilly and all its bustle, London's Jermyn Street seems to have a sedate quality about it, during the evening in any event. The Cavendish hotel is fairly central in the street and faces the back of Fortnum and Mason's. The Cavendish's restaurant, Petrichor, meaning 'the scent of rain on earth after a dry spell' occupies a corner position on the first floor of the hotel. As you enter there's an open, comfortable and relaxed feel about it, tables are well spaced and decor is plush yet not ostentatious. Having settled down enjoying the surroundings and ordered a glass of Chilean Sauvignon Blanc each, we set about the task of deciding what to eat. Petrichor has a seasonal a la carte menu and describe their cooking style as 'contemporary British'. The ingredients used in preparing their dishes are sourced wherever possible from British farms and producers. Having chosen our meal we relaxed and let the evening wash over us.
Starters arrived; Dorset scallops and asparagus 'a la Janice". The scallops were perfectly cooked with great texture, they were sweet and delicate, with a slightly salty caramelisation on the outside from their searing, these were served sat on top of a bed of ham hock and black beans and some delicately flavoured jus, a delightful dish. The asparagus was nicely al dente and having been tossed in butter it was served with a lightly poached duck egg, a good tarragon sauce and some tasty onion bread. I'm not sure what part of the presentation makes it 'Janice' style, or indeed who she is, but this was another lovely dish.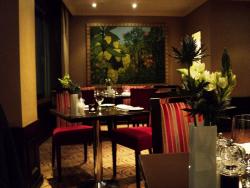 For mains I rose to the challenge laid down by our server, when she was singing the praise of the 18 oz T-bone steak, Phillip went for the pork fillet. The steak was, as its description indicated, huge. Ordered medium rare, at its core it was very much on the rarer side of medium rare, but it was an excellent cut of meat, great flavour and very tender. It came with sautéed wild mushrooms that had some serious flavour to them, a portion of crisp chips and a dish of good béarnaise sauce. I have to admit it defeated me, but not by very much, it's a great dish, but one that's perhaps worth foregoing starters for. The pork fillet was equally generous; three good sized pieces of tenderloin that had been oven roasted and were lovely and tender. They were accompanied by some pork sausage and truffle croquettes that had a great crisp shell encasing what turned out to be a creamy full-flavoured centre. The dish was completed by some wilted spinach and a full bodied red wine sauce. With these we ordered sides of buttered broccoli which was left with some bite and minted Jersey Royal potatoes. These were two excellent and substantial mains. We had a good medium bodied Valdivieso Merlot with mains, which went well with both meats.
We allowed ourselves a little time before choosing desserts, we had to. But having chosen they came, the gooseberry jelly had some wobble and had nice sweet gooseberry flavour, as you might think. This was served with some tart gooseberry compote and a delightful poppy seed tuille, it made for a refreshing finish to the meal. I was drawn to the 'Modern peanut butter cheesecake' simply because it was an intriguing creation. The creamy peanut flavoured cheesecake was served with a disk of chocolate jelly on top, sandwiching some whole peanuts to it and there was a good nutty/oaty crisp biscuit on the side. It was indeed every bit as interesting as I had thought it might be, I certainly enjoyed it, clearing my plate entirely.
Wines at Petrichor start at just under the £20 mark, those we chose were at the lower end of the range and we were very happy with them. Service was attentive; the staff were engaging and knowledgeable about the menu. Petrichore is rightly proud of its sustainability credentials, it's a member of the Sustainable Restaurants Association (SRA) where they are rated as three star sustainability champions. This means that they will be hitting many of the criteria that the SRA identify in 14 areas of sustainability. Petrichor's menu sets out clearly the provenance of where the main ingredients are sourced, so you know exactly where it comes from and you can see that most of their produce is sourced in this country. I would say that we found the dishes generous, to say the least. Having said that, is it a bad thing? No. The food at Petrichor was excellent and the atmosphere was sedate and charming. Could we detect the scent of rain on earth after a dry spell while there? I'm not sure we would recognise it, but we did very much enjoy our meal there.
If you would like to know more about sustainable restaurant issues go to the SRA site through the link above. You might also like to read my article on the SRA.