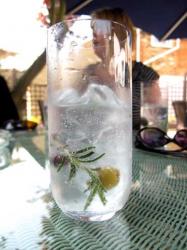 Nick Harman races around the Cotswolds like local lad Jeremy Clarkson on E numbers. The challenge? To eat starters in one place, mains in another and dessert at a further place still. All part of seeing what the Cotswolds Foodie Club is all about.
You can see why half of West London decamps to second homes in the Cotswolds every weekend. Not only is it a very beautiful part of the UK, it's only a quick 4×4 or train ride away from town. Those of us that can only ever visit the area vainly hoping for a glimpse of the Lesser Spotted Clarkson, the Kate Moss Bird or Cameron Cameroonus can only sigh with envy as we admire the cute villages.
Mind you, sitting on a hot day in the courtyard of The Feathers in Woodstock it's easy to forgive them their lucky lives. Everything seems better with an iced G&T in front of you and The Feathers do a mean G&T with olives, rosemary, ice and gin from their stockpile of over 100 gin brands in the bar. Who would have guessed there were so many?
Mine has been made with Gin Mare, a rather superior gin that has Arbequina olive, Rosemary, Thyme, Basil and Mandarin in its botanical blend whilst the tonic used, 1724, has quinine gathered from an altitude of 1724 metres above sea level on the Inca Trail. This makes 1724 one of the most expensive tonic waters in the world. The 'shhh you know who people', by the way, use quinine flavouring not real quinine. Tut, tut.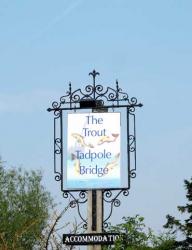 This glass-clinking moment is a pause in a heady rush around the Cotswolds to taste the Cotswolds Foodie Club, a new venture by over twenty of the most famous hotel restaurants, pubs and inns in the Cotswolds. First stop, literally for starters, had been at The Trout Inn at Tadpole Bridge where the fledgling river Thames burbles softly past the garden of this historic inn and is but a mere trickle of what it is to become later in London.
Inside are just six very cosy and classy guest bedrooms and on the table is a selection of starters from a clearly accomplished kitchen. The pressed terrine of Kelmscott Ham Hock with a rhubarb and red pepper salsa is dense with prime meat. The seasonal asparagus is vibrant green cooked to a perfect snappy al dente, bathed in deliciously naughty hollandaise and topped with a poached egg whose free range yellow almost outshines the sun that's blasting down. The Cornish Lobster Cocktail with lime and ginger crème fraiche and an egg or two of caviar on top is the poshest thing on the menu, but is worth the money. It all gets washed down with local cider, lemonade, bitter and Cotswold lager. Not all at the same time, of course.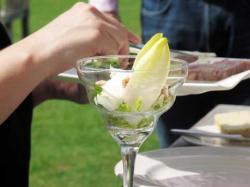 With not a moment to waste , I reluctantly leave the starters to get back in the car and get over to The Feathers in Woodstock for my main course. The G&T in the courtyard cools me down nicely and then it's into The Feathers' impressive dining room.
A 17th century townhouse, or really once seven townhouses, right by the gates of Blenheim Palace, The Feathers has thankfully been left untouched by the dead hand of heartless hotel modernisation. The corridors still ramble around uncertainly, the stairs creak ominously and you have to watch your head on the beams even in the best suite in the house, a place where the very rich can bed down for the night in classic comfort. It's luxury kept subtle and restrained, which is the best kind of luxury if you're not a rapper or a football star.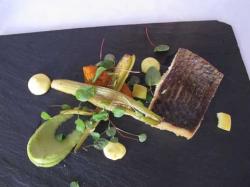 The food reflects the hotel ethos. A stone bass is served with Fennel, Heritage Tomato and a saffron rouille and is quite gorgeous. The fish is perfect with properly crisp seared skin, while the Loin of Cotswold Lamb is served on tarragon polenta, red pepper, charred courgettes with a garlic and anchovy puree.
Anchovy, garlic and lamb is a classic combination and always works well, especially when the lamb is this good. Polenta I have always avoided, never really seeing the point of it, but chef Marc Hardiman makes it something to savour, which is a tough thing to do as far as I'm concerned.
First class grub and after a few glasses of wine from Spain's Rias Baixas, a wine region finally getting some recognition, it's hard to lever myself out the chair and back into the car to move on for desserts. (Note to local constabulary, I wasn't doing any driving myself).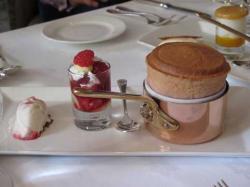 We head to The Feathers' sister pub, the marvellously monikered Lords of the Manor in the equally strikingly named village of Upper Slaughter. Where do they get these names from, Hammer Horror films?
Here it was already pudding time in the pretty 17th century rectory that stands over a lake and five acres of gardens. The house even has one of those front drives where the crunch of gravel under tyre makes you feel like you're arriving in a Bentley, even when you're 'only' in a BMW.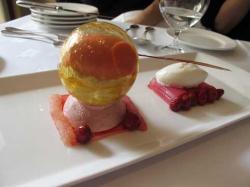 Everything here is luxurious, and chef Matt Weedon has a Michelin star under his belt, so the desserts are extra-special. The more he brought out, a broad grin on his face, the better it got. Classic English rhubarb with a proper vanilla custard, wild strawberries and fromage frais battled with a classic Tarte Tatin of pears, chocolate parfait, walnut croquant, pear sorbet and rosemary custard. Lush. Add to that Kalamansi soufflé, with a lime tea mousse, pina colada ice cream and a coconut tuile and it became the posh version of the Famous Five's supper. All the desserts had their own paired dessert wines, none of them predictable and all very more-ish.
Upper Slaughter belies its name by being extremely pretty and very pleasant to stroll around. The only crime you can imagine taking place here would be someone deadheading a rose at the wrong time of year. Being in this boutique hotel isn't like being in a hotel at all; you can easily imagine it's your own rectory and that Jane Austen will be popping by for a moan later. More likely though it will be Alex James, another star living not far away.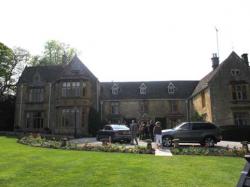 Out on the lawn Matt brings out the British and Welsh cheeses to nibble on. A fantastic selection but he stresses that taste is the criteria. Much as he likes to promote British and Welsh produce, it has to be good; he won't lower the hotel's high standards just to be patriotic.
No worries here; local producer Simon Weaver makes great cheese including a herbed and smoked brie, there's lovely hard Ewe's milk cheese called Lord of the Hundreds from East Sussex, a range of blue cheeses from the West Country and of course a Stinking Bishop. Over twenty cheeses in total.
Then it's last call to get the train. Cramming cheese into my mouth I leap Bodie and Doyle style for the car and we get to the station with seconds to spare. There's just enough time for me to roll across the bonnet and level an imaginary gun at the enemies of democracy. An hour later we're pulling into Paddington.
The Cotswolds, it has far too much beauty and far too much good food and places to eat it in to be ignored. If ever I envied Jeremy Clarkson, and let's be honest like most blokes I rather do, this would be the final straw. I'd move to the Cotswolds tomorrow if I won the lottery.
"And on that bombshell……"
---
The Cotswolds Foodie Clubs sign up is free via www.cotswoldsfinesthotels.com
The Trout Inn at Tadpole Bridge
Buckland Marsh
Faringdon
Oxfordshire SN7 8RF
Tel: 01367 870382
E-Mail: info@trout-inn.co.uk
Website  www.trout-inn.co.uk
The Feathers
Market Street,
Woodstock,
Oxfordshire
OX20 1SX
Telephone: 01993 812 291
E-mail: enquiries@feathers.co.uk
website: www.feathers.co.uk
The Lords of the Manor
Upper Slaughter
Gloucestershire
GL54 2JD
Telephone: 01451 820 243
E-mail reservations@lordsofthemanor.com
Website www.lordsofthemanor.com