2011 has been tipped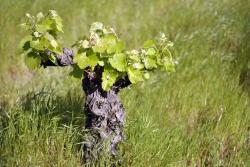 by many wine experts as the year that natural wine finally bursts into the mainstream UK market. Steeped in tradition, this rustic style of winemaking is actually very similar to the wine that would have been made when it was first produced over 8,000 years ago, so why is it only now coming back into fashion after so many years?
Nowadays chemical concoctions are lavishly sprayed over vineyards, plus all sorts of additives andyeasts are then added in the winery. The advantages of all this human intervention is fairly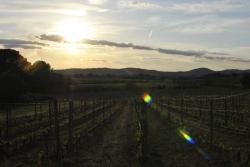 obvious; increased yield, a lower risk of crop disease and a more consistent flavour, but the cost is a product that no longer truly represents its origin, which is really what wine is all about. In an age when organic has becomefashionable and customers are so conscious about where their food comes from, it seems somehow strange that wine and winemakers have become immune to the same scrutinies?
So what actually defines a natural wine? According to the winemakers themselves, a wine can be classified as natural when it has been produced with a respect for the land and there has been the minimum amount of human intervention during the growing and bottling process.
There are currently a handful of countries around the world producing small amounts of natural wine, but it is France and Italy that are leading the revolution. France in particular, has had a love affair with natural wines since the mid-nineties and from there it has grown to the point where the natural market now represents over 5 per cent of Frances total wine production.
Initially, the overwhelming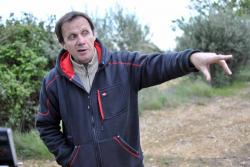 majority of this came from the Loire valley in the north, but this is no longer the case. Now, many of France's most famous and prestigious winemaking regions make excellent natural wine. But one region in particular is making some incredible examples, it is the Languedoc-Roussillon in the south.
Previously known as France's largest producer of poor, cheap table wine, the combination
of the warm Mediterranean climate and the affordable cost of land, has meant that many of France's most exciting and adventurous winemakers have bought plots to experiment with the natural wines. As a result there are now a wide array of new and interesting wines being made unlike anything else on the market and one of the finest examples of this is Alain Chabanon, of Domaine Alain Chabanon in Lagamas.
Chabanon's merlot-based wines have already drawn comparisons at international tasting events with the infamous Bordeaux Petrus and he is making some stunning, whites, rosés and sweet wines, too.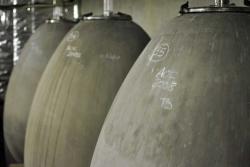 Converting from organic to biodynamic production around three years ago, Chabanon now does his entire planting, ploughing, pruning, picking and bottling in strict accordance with the a special lunar calendar, which tells him exactly when is the optimal time to carry out each task. For a vineyard to be considered biodynamic the winegrower must also use specific biodynamic preparations in place of cosmetic fetilisers, and these are made from a mixture of cow manure, quartz (silica) and several medicinal plants.
Chabanon admits that many of the local vignerons find his unconventional methods a little odd, but he believes it is this painstaking attention to detail and respect for the land that makes his final product so special.
A similarly ambitious biodynamic winemaker from the region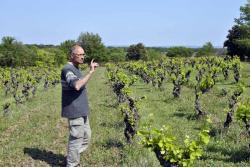 producing some very interesting and impressive wines, especially given the small-scale size of his operation, is Bernhard Bellahsen of Domaine Fontedicto. Apart from the help of his wife Cecile, plus the efforts of an aging, plough-horse, Bernhard does all of the work himself and it is this dedicated, labour of love attitude that appears to be the common denominator with so many of the natural winemakers that I've encountered.
Another factor that seems to be unique to natural winemaking, is the abundance of lush green grass that is allowed to grow feely throughout the typically desert-like vineyards.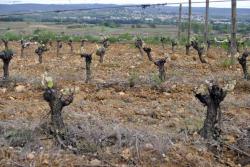 Conventional winemaking usually leaves the soil hard and dry, but the absence of chemical treatment means that grass, wild herbs and flowers flourish within the vineyards, and nowhere is this more evident than at Clos Fantine. A modest, family-run vineyard where the use of any chemicals is strictly prohibited and the only nourishment the 90-year old vines receive comes from upturned grass, which slowly ferments in a sort of grass and soil, organic sandwich,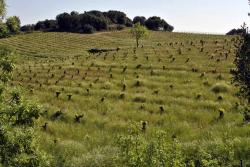 gently releasing all of its nutrients back into the soil and thus completing the circle of life. The trio of vigneron siblings behind Clos Fantine are Olivier, Corrine and Carole Andrieu and they summerise theirs and so many other natural winemakers ethos when they say, 'we see the grass and weeds as are our allies not our enemies."
Back here in the UK, natural wine's profile is definitely on the rise, and this is reflected by the growing number of restaurants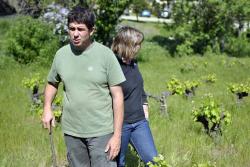 and bars that now feature natural wines on their lists. Amongst them is Hibiscus, the two Michelin starred restaurant in Mayfair, London, which recently converted its wine list almost entirely to natural wines. Head-chef Claude Bosi is a big believer in the natural style of winemaking and to make sure he got the very best natural wines being made, he hired Isabelle Legeron, France's first and currently, only female Master of Wine to take charge of the daunting overhaul.
Legeron, who also has her own TV show dedicated to natural wine, That Crazy French Women, has joined forces with five leading natural wine importers to organise the inaugural Natural Wine Fair, which is taking place later this month at London's Borough Market between 15th – 17th May. The fair is all about giving people the opportunity to taste and find out more about natural wines, meet the producers and there will also be the chance to sample over 500 different wines.
As well as this, the organisers of the Natural Wine Fair have arranged a Natural Wine Fortnight between 9th – 22nd May, where for two weeks over 100 restaurants, bars, gastro-pubs and wine shops from all over the UK will be highlighting natural wines by running promotions with samples and offers giving the public the opportunity to expand their wine tastes. For a full list of places taking part in Natural Wine Fortnight click here.