The sofa's been shifted and there's a woman selling cushions in the bedroom, where a DJ proudly points out that it's the Tavares' It Only Takes a Minute, which Take That later covered, playing over the speakers. In the hall, an ominous-looking palm reader flicks through tarot cards.
This unremarkable north London flat, with an ice-cream van parked on the drive, is throbbing with food ravers.
They are in the garden, shuffling past one another in a human puzzle that never quite fits, queuing three deep for the toilet and watching a young Chinese woman make dumplings in the kitchen.
This underground food market, an idea already sweeping America, is hosted by Kerstin Rodgers, who runs The Underground Restaurant.
It is her fourth 'rave', with more and more stall holders asking to set up shop at her Kilburn home each time she organises one.
Today there are about 35 stall holders, travelling from as far afield as Wales and the Cotswolds, and more than 100 visitors crammed into her flat, snapping up food samples and cooing over kitsch teacup candles.
'Most of them I have not met before, they just ask to come along" says Kerstin, sat beside a pile of her new book, Supper Club, in her larder; 'I just got a bit bored of farmers' markets, it's normally the usual suspects, established stall holders, you always see the same people."
It's obvious she is right, one woman standing beside a gin-soaked ironing board being used as a makeshift cocktail bar in the bedroom, is selling her homemade soaps for the first time.
These aren't some of the 'independent' stalls that now seem to appear at every farmers' market going, but small producers, writers and artists.
First appearing in San Francisco in 2009, the underground night market, or 'food raves', now appear across the States.
For a small fee strangers are invited into a host's home where there are food, music and arts and crafts stalls, mostly from smaller start-up businesses.
The beauty of the concept, as single mum and writer Kerstin explains, is you don't need a signed certificate when you invite people into your home.
'I want to encourage small businesses and this is a relaxed way to do it." says the 41-year-old; 'I think the notion of private space, and how best to use it, is a new one, but I don't have a venue, a hall or a field.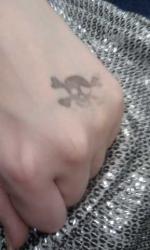 'What I do have is my flat and your house is probably the most expensive thing you own, so why not use it to the max and be resourceful."
But there is also a political and 'DIY punk' buzz to underground markets – Big Society is alive and kicking here.
Dressed in a mustard yellow dress and with a fascinator about as big as my head, Kerstin says: 'I started Supper Club to combat that city alienation, plus I think people are just happier when they are sharing things.
'David Cameron goes on about Big Society and there's an element of that in this, but I don't think his notion is being put into practise.
'I suppose I'm putting my money where my mouth is."
But what of inviting strangers into your home? Although, of course, this is not a new notion for Kerstin, who regularly invites 30 diners into her ground floor flat for Supper Club.
'I don't mind", she says, smiling and unmoved as we hear the piercing twinkle of a glass shattering in the kitchen.
Kerstin Rodgers, @Msmarmitelover on Twitter, is selling Supper Club: Recipes and notes from the underground restaurant, at www.amazon.co.uk