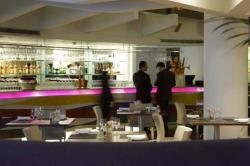 Starting in June, on the first Saturday of every month, the Commonwealth Kitchen at the Commonwealth Club will be hosting a varied series of music and reader events. These will be accompanied by a three-course lunch or dinner designed by head chef Oliver Tobias.
The Commonwealth Kitchen's head chef Oliver Tobias will create a British menu with a contemporary Commonwealth and international twist. Starter dishes include Norfolk asparagus, crispy quail eggs and black truffle vinaigrette followed by mains such as roasted sirloin of beef, olive crust, courgette and lemon verbena hummus. Desert dishes include slow-poached nectarine, liquorice ice cream and pistachio biscuit or British Isle cheeses, celery, date chutney and seeded crisp breads.
Accompanying dinner is the entertainment whose line up includes: Saturday, 4th June ~ MUSIC~ Sam Kelly's Blues Band Unplugged; Saturday, 2nd July ~ TALK ~ Paul Barnett: 'What does corruption look like?"; Saturday, 3rd September ~ MUSIC ~ The Greg Davis Quintet; Saturday, 1st October ~ TALK ~ Dudley Sutton, who became a cult figure after playing the gay biker in The Leather Boys in 1964.
The music and talks will alternate on a monthly basis. The music evening will start with dinner at 7.00pm and the performance will start from 9.30pm. The three-course dinner is priced at £25.00 per person. The Readers Luncheon events will take place at midday and include a special three- course menu followed by a thirty-minute presentation.
The Commonwealth Club, 25 Northumberland Avenue, London, WC2N 5AP