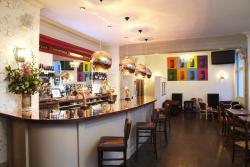 'How would you like your duck leg cooked sir?" 'Properly, mate." My answer may have been a bit abrupt, but It was an odd question to ask. You really don't want to muck about with fowl legs not if you want to avoid a trip to A&E.
The question he should have asked was 'how would madam like her lamb?' He didn't and so P's lamb was served a bit overdone for her taste, although it was still a very good bit of baaaaa.
Odd things like that slightly marred a good deal and a good menu at new London restaurant, or gastro pub if you will, The Jam Tree. An old boozer done up nicely in a kind of faux 70s way at the end of the King's Road, it has a pleasant relaxed charm and a customer base of Fulhamites not short of a bob or two and inordinately fond of shouting at each other across distance. ' James you old bastaaaaaaaaaad, haven't seen you for yonks!"
It was garden BBQ night when we went, with some tasty-looking pig on a spit, and the large garden was heaving with happy hoorays. Up in the pub proper it was equally busy with people seeming to prefer to order mains and starters all at once and then share the eclectic menu of crowd-pleasers.
I'm a bit traditional me, as befits my status as oldest bloke in any pub I go in, so we had our meal in normal order. A starter of Crisped Belly of Pork on Aubergine Sambal was really very good indeed, only slightly let down by the sambal and the separate crackling both being fridge cold, so muting the flavours. Let's not be coy here , every kitchen has a microwave lurking somewhere, even Michelin starred ones, a few seconds nuking wouldn't have affected the integrity of this dish but would have made it better. The crafty spicing would have shone out more when warmed up.
P's Curried Cornish Crab Samosas with Cucumber Raita had no warmth problems though and fusing Cornwall with India was a good idea. She liked it a lot. The samosa pastry was grease free and didn't overwhelm the sweet crab, as could have been expected, and the cooling raita was a nifty accompaniment.
The Duck Leg (slow roasted) when it hopped up seemed to me to be a classic confit duck leg but there's nothing wrong with that. The meat was tender and the skin crispy, the two things that have to be right. The salad of Puy lentils had a rather crude lump of red onion sitting on it but was otherwise a correct accompaniment to an essentially French dish. The chicory in the salad gave a pleasant astringent counter note to the duck but I could see no sign of the advertised walnuts and pear ingredients. A shame because walnuts work well with duck. Nice hunks of Stilton though.
Lamb with jersey royals, peas and a red wine and mint jus was hardly ground-breaking cuisine but absolutely appropriate for this kind of eating. The lamb was generous in size and generally went down well with P who couldn't quite finish it all as she likes her lamb a bit pinker.
Excellent hand cut chips were a surprise and the green beans with garlic, soy and chilli were absolutely superb. I couldn't stop eating them; the beans squeakily al dente and the balance of spice just right, perhaps a bit chilli fierce for some but not for me.
Jam Tree Roly Poly with custard would probably have pleased younger diners, but me and P come from a generation whose mothers cooked this kind of thing every week and not with ironic intent. It didn't give us a Proustian flashback to our childhoods, the texture was wrong. It was perfectly ok but it wasn't the real McCoy.
Sticky toffee pudding with dark rum sauce is a gastro pub classic and near impossible to get wrong. It was alright.
And so is Jam Tree. The menu makes no apology for offering something for everyone, the ambience is cool and the staff pleasantly unprofessional, in a good way, and relaxed. The Asian side seems to be stronger than the others, although the burgers did look good as they went past.
Slightly hotter starters and I could really warm to The Jam Tree.