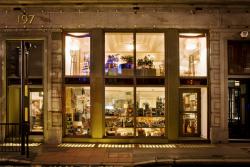 Iberica Food and Culture, recently awarded a Bib Gourmand in the Michelin Guide 2011, have introduced 28 exclusive wines to their list. These new wines, have been selected by Iberica's sommelier, Bruno Murciano from small producers who have, before now, only ever sold within Spain. The wines are now exclusively available in the UK through Iberica Food and Culture and we're told that they have been selected for their 'quality, distinctiveness and affordability'. They're available at Iberica's restaurant as well as to purchase at their delicatessen, to enjoy at home. This is an exciting development and I selected six of these new wines to these shores, two white and four red, to give you an idea of the flavours you might expect as well as their quality.
Firstly to the whites, the Menade Verdejo Ecologico is a very pale yellow/straw colourer white with fresh acidic citrus and elderflower in its bouquet. As you drink it there there's a zingy citrus tang with big lemon hitting the palate followed through by lime and grapefruit, this is a great fresh acidic white that gives you an effervescent tingle on the edge of the tongue. It has good length to it, in which the grapefruit notes grow. This is an excellent white for summer drinking on its own but would work well with fish, light white meat dishes and salads.
The El Brozal Rioja Viura is another white that has big citrus notes, as you lift it to your nose, grapefruit comes through clearly. You take a mouthful and like the Menade you get a great citrus acidity, yet with some slight creaminess. It's a very dry fresh sharp edgy wine and after you swallow there's drying grapefruit zest in its length. Surprisingly light on the palate this is another summer drinking wine that would also work well with light summer salads, fish and white meats.
On to the reds, the Ambos Barrica Mencia is a good rich deep ruby red in the glass and has fresh acidic forest fruits in its fragrance, notably blackberry and blackcurrant. These come through well in the mouth particularly a tangy dry blackcurrant acidity. This is a medium bodied red with medium tannins and a good length of flavour on the tongue. After tasting we drank the remainder of the bottle with a pork dish and the tannins softened considerably, it would work well with most red meats also.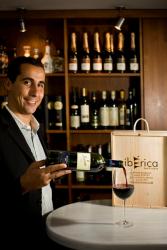 The Morfeo Barrica Tinta del Pais is another deep ruby red that has sharp blackcurrant, cherry, some forest fruit and a bit of spice in its aroma. There are dark tangy forest fruits on the palate together with some fresh cherry and a hint of vanilla. Medium to full bodied, with medium tannins, this wine has a lovely blackcurrant edge in its finish and some slight peppery heat. We drank it with some slow roast lamb and with the food, the tannins reduced and the wine's fruitiness developed considerably. It's another wine that would pair well with pork, lamb and steak.
The Londoño Rioja Tempranillo is another rich red that has fresh berries on the nose and some acidic blackcurrant notes coming through. As you wash it around the mouth this is a lovely bright fruity wine that has some acidic sharpness. Blackberry and blackcurrant come through well on the palate and there's some spicy heat to it. This is a light to medium bodied wine that has light tannins. We had it with a vegetarian lasagne and the tannins lessened considerably, it would support meats like lamb and duck very well.
Finally the Pasolasmonjas Garnacha, another deep red that had some spiciness and forest fruits on the nose. As you taste it you get tangy blackcurrant with a sharp acidic bite. Black cherry and blackberry then come through well, together with a little minerality. This medium bodied red has low to medium tannins and nice fresh acidic blackcurrant in its length. We drank it with pan fried pork topped with St Agur cheese and the tannins softened completely with the food. It would work equally well with lamb, pork, duck and some game.
These were some lovely wines with good fresh vibrant flavours; they've been well selected by Bruno Murciano, Iberica's sommelier. They are well worth seeking out at Iberica, where as I have said they are uniquely available.
Iberica Food and Culture, 195 Great Portland Street, London, W1W 5PS www.ibericalondon.co.uk