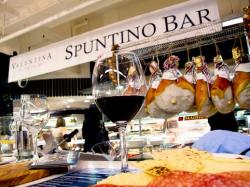 One of my recurring fantasies, the one that doesn't involve Helena Bonham-Carter and an abridged copy of the works of Shakespeare, is of being 'accidentally' locked inside an Italian deli overnight.
They must be the most magical foodie places in the world. Some people rave over Persian shops, others over French cheese places, but for me an Italian deli is as close to food heaven as it gets.
That's because so much of it is ready to eat. Not just the obvious things like salamis, cheeses and olives but the pre–prepared dishes in the chill cabinet too.
So it's good to find Valentina, a very good Italian deli with branches in West London, has set up a kind of pop-up restaurant on the Fifth Floor at Harvey Nichols until May 22nd offering a selection of deli products to eat there and then at the ten seat counter.
Served on olive wood boards and with wine or prosecco, these 'small plate' servings are ideal for getting a flavour of what Valentina has to offer and you can buy to take home of course.
The Zoccolas and Arcaris, who founded Valentina (named after one of their daughters), started out as arable farmers in Southern Italy before emigrating to the UK after the Second World War and starting up in the food business.
The genuineness of their commitment shines through -from the artisan hams and salamis selection came a very good Milano salami, some gloriously limp mortadella, excellent prosciutto de Parma and my all time favourite, Salame Ventricina which was wonderfully spicy and all served with Pavessi crackers and Carta di musica.
The Provolone Dolce was melt in the mouth gorgeous and like all the cheeses (apart from mozzarella) was served with a pot of honey dotted with walnuts. The combination was perfect, even more so with their mild Pecorino, a cheese that is often unfairly overshadowed by its close rival Parmesan.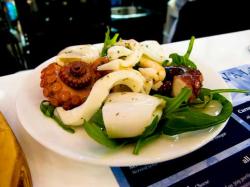 Seafood was equally good, squid and octopus beautifully tender and sweet and hard to stop eating while Sorbifacile Limone, a 'drinkable sorbet', was tartly refreshing and redolent of summer.
If you want to take a piece of Valentina home with them, then the featured antipasti in jars, jams and honeys as well as bronze cast durum wheat pasta, sauces and olive wood gifts are all available as well as excellent. olive oil from the family's own farms in Sant`Elia Fiumerapido.
The new Spuntino bar will run until 22 May and will be open 11am to 8pm Mon-Sat, 12pm-6pm Sunday.