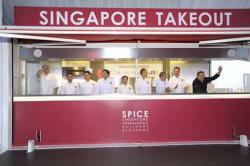 Housed in a shipping container, Singapore Takeout will arrive at the Southbank on the 9th June
London is to become the first city in the world to host the Singapore Takeout – a mobile pop-up kitchen and restaurant housed within a specially-customised shipping container. The
initiative is part of Singapore's International Culinary Exchange, SPICE, programme launched earlier this year which positions the city as the culinary hub of Asia.
The Singapore Takeout is embarking on a world tour over the next 12 months giving the public an opportunity to experience outdoor dining Singapore-style. Over three days, from June 9th to June 11th, London's Southbank will come alive with the smells of fine cuisine created by one of Singapore's leading chefs in conjunction with a local chef from London.
The Takeout will offer an innovative menu created by both chefs and cooking demonstrations will be held for the public, and travel trade partners, using Singapore's authentic food products as key ingredients. Recipes will also be available showcasing the country's best food brands and products.
After London, the unique pop-up restaurant will travel on a global roadshow to eight other cities including Delhi, Dubai, Hong Kong, Moscow, New York, Paris, Shanghai and Sydney. These are key cities that have led the way on the international culinary scene and also produced internationally-renowned chefs and restaurateurs.
A total of 10 of Singapore's world-class chefs are taking part and pairing up with global celebrity chefs to create a mouth-watering array of traditional and modern dishes.
The exciting line-up includes chef Janice Wong of the 2am:dessertbar, renowned for her thought provoking and progressive desserts; young, rising culinary star Andre Chiang who has been recognized in the San Pellegrino World's 50 Best Restaurants list; as well as established sommelier and restaurateur Ignatius Chan of Iggy's, arguably the most-feted fine dining establishment in Singapore, ranked 28th in the San Pellegrino World's 50 Best Restaurants list and which has topped Asia's Top 20 on The Miele Guide.
Aw Kah Peng, Chief Executive of Singapore Tourism Board commented:
'Singapore has come a long way on its culinary journey. The country is fast becoming the must-visit destination for all foodies, providing inspiration for culinary talent and an environment which encourages fast and furious food innovation. SPICE will spur this growth on, as we showcase our inventive cuisine and home-grown culinary icons to the world through initiatives like Singapore Takeout and Global Chef Exchange."
September will see the launch of the Global Chef Exchange program which aims to immerse foreign chefs in Singapore culture, inspiring them to develop and demonstrate original recipes that fuse their cooking styles with their new Singapore experiences. The chef immersion programme will see 25 international chefs interact with their Singapore counterparts, exchange ideas and re-create Singapore flavours during their four day stay in Singapore.
This four-day exchange introduces local spices, smells and sights to the visiting chef. Cooking workshops and demonstrations, as well as networking with local businesses will give a great insight into Singaporean cuisine. It is expected that chefs participating will take a little bit of Singapore back to their respective countries, raising the profile of Singaporean food even further.