4-12 Whittington Avenue,, London EC3V 1LE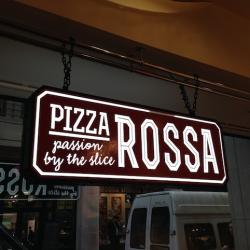 Feeding people at lunchtime is a tough business. It's alright for us freelancing'media' types, who can take a lengthy break, wander to find the latest 'must-eat' eatery and chalk it down as culture, research and 'chill-time' all at once.
But for those chained to their desk in the City, unless they're off to wine and dine clients on rare veal chop, it's a case of in, out, grab whatever is closest and shove it in sideways with a side order of spreadsheet.
With the likes of Pret, Starbucks and Itsu dominating every street corner and buying up every inch of vacant space in between, there's limited room for a newcomer.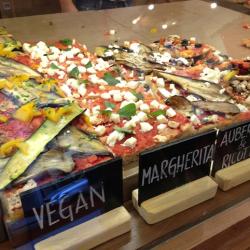 Shifting these guys from their pedestal will be hard work, but kudos to anyone who tries. The food world will always need innovation, especially the sandwich-heavy lunchtime market. And us food writers will always need new places to visit, if we're going to be kept well-fed.
Hiding just outside Leadenhall Market, above one bankers, below another and opposite a defunct branch of HMV, is the new kid on the block – Pizza Rossa.
The brainchild of an MBA educated Italian, the idea of Pizza Rossa is to provide quick pizza (obviously) to the busy throngs of office workers who value speed and, increasingly, quality.
Their Whittington Avenue branch (they have another on London Wall) is technically a pop-up, albeit one with no end in sight.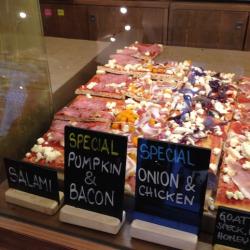 On entering, the pizza sits sparkling along the length of the counter at the back of a moderately sparse room. There are a few tables and chairs here – none of which block the route from the door to the counter – but who has time to sit and eat when the JLB deal needs finalising and the boss is hankering for a new ivory backscratcher?
In out, in out, in out. The procession of suits running through the door and fleeing faster than I do when the bill arrives – even late into a lunchtime session – was impressive.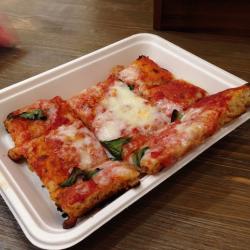 The pizza here comes in squares, not the 'traditional' wedge slice. Pre-cooked dough is topped with ingredients and thrown into a bank of 300 degree ovens. What emerges is a half-centimetre thick oblong of pizza that's both crisp and light – surprisingly so. From the surface this looks like any other pizza, but what lies beneath is an uneven, air-filled golden bread; in some ways more like a ciabatta than the thin-crust or deep-pan choices at most takeaways.
With a light base comes a light meal – no post-lunch moaning, groaning, eyelids drooping as the heavy bread digests. A light base also allows for less guilt on the topping. For those who are concerned with such things, the calories here are to be counted above, not below, the line.
Toppings begin with the standard and buffalo versions of the margherita, moving through to an abundance of meat – pepperoni, salami, speck and hot spreadable sausage – and finally a couple of veggie options.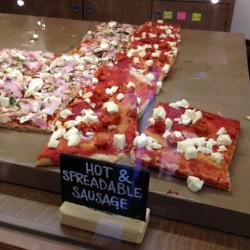 My favourite was the spreadable sausage – a good dose of spice in each bite that catches the back of the throat, warms and lingers. That said, pumpkin and pancetta was a revelation. Something sweet served with pork seems to be making a frequent appearance and it's one that's more than welcome. Then again, speck with goat's cheese, walnuts and honey (again, more sweet drizzled pork) could not be sniffed at either.
Damn, had I come here and paid, I'd have struggled to pick my two for £5 – which is their special offer (although I'd like to meet the sucker who would only go for a single slice!).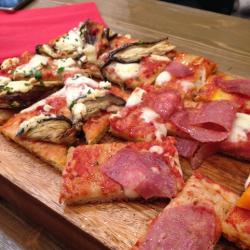 With a range of toppings like this – all lip-smackingly good – it's difficult to understand why pizza tapas hasn't taken off. A small square of every pizza Pizza Rossa offer, joined together to form two slices, would make an ideal lunch. I'd even take a square of vegan pizza, just so I could try all those delicious meats in a single sitting.
If you work, live or play in the City (who lives in the City?!), give your boss the finger, jog past the usual sandwich shop and pay Pizza Rossa a visit. You won't be disappointed – I guarantee it.
Work in the City? Then visit…