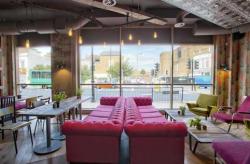 Pound the avocado, add a handful of coriander leaves, a sprinkling of sea salt, chopped tomatoes, a squeeze of lime, then add a jalapeno kick and…voila!
I'm at The Plough in Clapham Junction but it isn't the chef explaining the recipe for the perfect guacamole but the waiter – a floppy-haired, friendly Paul Nichols lookalike. The ingredients have been presented in tiny ceramic bowls next to a pestle and mortar. The gimmick guarantees you the perfect guacamole – because you're making it yourself.
The Plough isn't the first to introduce DIY dining. There's Yarmouth's Black Rock Grill where you cook your own steak, lamb or scallops on a heated stone or The Mongolian Barbecue in London where you can assemble stir fry ingredients before handing it to the chef to be cooked.
But mash your own guacamole? Isn't it just a bit, well, lazy? Whatever next? A pot of soil and some seeds to grow your own veg, to be harvested and eaten on the next visit? A cloudy-eyed, dead fish to be gutted and fried at the table?
Okay, okay, I'm being harsh. The concept is fun and our guacamole was perfect – smooth with chunky tomatoes, just the right amount of heat and served with slightly salted toasted bagel chips, a pleasant change from tortillas.
And since, after a hellish journey, my friend and I looked like we'd competed in The Hunger Games (B had cycled to the pub and had a bleeding hand after a run in with a van, while I'd been suffocated by a sweaty armpit on the commute) pummelling the avocado was a great stress reliever.
The biscuit-coloured exterior of The Plough and the views of a busy crossroads at the dodgy end of St Johns Hill are far from attractive but inside the décor's trendy without being pretentious – plush pink sofas, foxglove wallpaper, yellow tasselled lampshades, a carpet of astro-turf and jaunty, coloured plants in treacle tins.
Texan-born Head Chef Joshua Garner has been working at The Plough since it opened last August and his aim is to'marry the broad American palate with European technique and tastes.' His Southern twist on pub grub results in plates like chunky chilli, oxtail sliders and corn cakes.
With the help of a bottle of a fruity Pinot Grigio that had notes of pear and apricot, we picked five small plates, beginning with the Pork and London Gold pie.
There was none of the congealed pink-boiled-baby mush that often passes as a pork pie. Oh no, this was a doughy, rustic-looking pastry lid encasing slithers of pork. I couldn't taste the ale and the pastry was dry without a sauce but the meat was delicately flavoured with rosemary and the caramelised onion piccalilli had a perfect mustard kick.
Chips chunkier than Jenga blocks were crispy on the outside and cumulus-fluffy inside and fried in truffle oil to give a salty, umami taste.
The Aberdeen Angus sliders were the showstoppers; dense, meaty, plum-sized patties oozing with the tang of blue cheese in cloud-soft white baps. It was Gaucho for Lilliputians.
Sauces are clearly Garner's forte. A Bloody Mary was packed with flavour – chilli, paprika and spring onion punch of the Bloody Mary sauce –  and we liked the salsa with its margherita twist. Note to self, if I want to jazz up my cooking, add a cocktail to it!
We were disappointed with the grainy smoked haddock croquettes and lacklustre breaded Bayou prawns. Dessert, a terracotta roof tile masquerading as a chocolate brownie, was Gobi-desert dry. Its saving grace was the crème anglais that accompanied it. Smooth and creamy, it had a refreshing zing of mint.
Variety's the spice of life so sampling small plates rather than having the usual pub grub of fish and chips or bangers and mash is a nice concept, especially if you're in a large group, but at around £5 for a small plate and between £10 and £17 for a large plate, the portion sizes could be bigger.
We had to wait thirty-minutes for our food and by the time we'd made our guacamole the other dishes had gone cold.
The fresh menu and friendly service at The Plough makes it a winner if you want a drink or some posh chips. Call me old fashioned, but if I'm out for dinner I like my meal prepared for me so while I'd head back to The Plough for the atmosphere, next time I fancy making some guacamole, I'll do it in my kitchen.
ENDS
The Plough Bar and Kitchen, 89 St John's Hill, London, SW11 1SY, 0207 585 1844, www.theploughstjohnshill.co.uk