31-32 Northumberland Avenue, London WC2N 5BW
Tom finds himself surprisingly impressed by the food on offer at a tourist hotspot, chain restaurant.
"It's not a chain. It's not a chain. It's not a chain." 
I kept repeating it to myself. 
I was on the way to try Prezzo's new spring menu and I was determined to walk in open minded. I believe I have the same problem as many others; I group chain restaurants, I dismiss them before even setting foot inside.
That's not to say I don't eat at them, or don't enjoy them, but have I had many memorable meals at larger chain restaurants? Well, I can't remember. 
It was a Friday night and the place was busy. We were quickly seated in the window, wedged inbetween two other couples, and given our menus. Or rather catalogues containing a huge range of pizzas, pastas, salads, risottos, calzone, grills and a small specials menu. And it looked good.
There were few surprises, and you could order your pizza'V.I.Pizza' which reminded me of when groups of 19 year olds book private booths in sticky floored, shitty countryside clubs, but there were good sounding dishes. In fact there were a few.
We ordered a fennel infused pulled pork, garlic and mozzarella flatbread, new for the spring menu, and mozzarella in carrozza (breaded mozzarella) to start.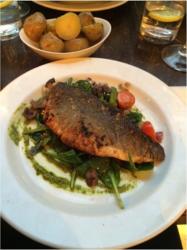 The restaurant itself had a simple modern interior with a giant pizza oven dominating the open kitchen at the back. Tables had been packed into every available space meaning it was quite noisy and we were sat rather close to our neighbours. Definitely not the place for a romantic meal, or to plan a heist. 
Our starters soon arrived and looked good. The flatbread was doughy and soft, the pulled pork on top of it juicy and beautifully flavoured with just the right amount of fennel. The breaded mozzarella was nice but I would've been seriously worried if not. The sauce it came with did what it needed to but without any real flair. 
It was just after our starters that our waiter mellowed a little. Upon arrival he had seemed a little tetchy, almost annoyed we wanted to eat, in a restaurant, but later he had a change of heart. Perhaps he just needed to warm to us.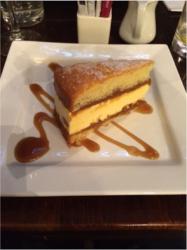 Our mains were great. My accomplices roasted duck leg, from the specials menu, came with smooth mash, some roasted root veg and a sweet sauce. It was all cooked beautifully, the duck's crisp skin giving way to soft, slow roasted meat.
My sea bass, served on asparagus, tomatoes, olives, green beans, spinach and red onion, was light and colourful. The fish was perhaps slightly overcooked, making the overall plate a little dry, but other than that it was a nice spring main. 
Desserts of pomegranate and raspberry fool cheesecake, and a salted caramel arctic slice, were tasty but nothing show stopping. The salted caramel and honeycomb did, however, play beautifully with the vanilla cream giving an enjoyable end to the three courses.
We finished our bottle of Barbera d'Asti and wandered off down to the South Bank. 
All the food we had eaten at Prezzo was tasty, and the new spring additions are fresh and well designed. Sadly, however, as much as I had tried to persuade myself Prezzo was not a chain, the restaurant had done everything it could to remind me it was. 
From the squeezed in tables, to the variable service, to the predictable, vast menus, it had fit the stereotype as best as it could. 
But perhaps that isn't such a bad thing. 
I'm still not convinced I'll have a truly memorable meal at a larger chain restaurant, and perhaps eighty odd quid could be better spent even in London, but there is a place for Prezzo.
Even if it's not a place I'll be rushing back to.
After something a little classier?
Take a peek at what happened when Nick returned to Galvin at Windows.
Or if you'd rather stay in here's a cracking lamb recipe.