Nothing beats a traditional ginger biscuit with your cuppa – apart from perhaps ginger with a twist, as Danielle Woodward discovers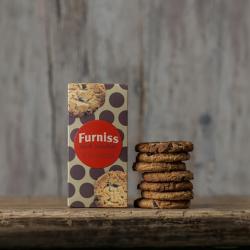 Ginger is a versatile spice that not only works well in cakes, biscuits and confectionery but also has proven medicinal benefits – mainly as an aid to ease nausea. That's the reason why I ate my own weight in ginger biscuits when I was pregnant. Well, that's my excuse anyway. 
One of my earliest childhood memories was visiting a bakery in north London, near where I grew up, and being enveloped with the delicious, comforting scents of baking bread, biscuits and cakes as I walked through the door. There was an elderly lady who worked there and I remember how she always pressed a biscuit, usually a tiny gingerbread man, into my four-year-old hand, putting her finger to her lips and smiling conspiratorially.
To this day, ginger biscuits are probably my all-time favourite teatime treat, so you can imagine how excited I was to discover Furniss Biscuits' new range of Spicy Gingers: Original, Dark Chocolate Chip, Blossom Honey and Spiced Lemon.
Furniss is a Cornish bakery with a history – started by John Cooper Furniss in Truro in 1886, selling gingerbread and Cornish fairings (traditional ginger biscuits), the company's popularity grew as they made the classic spiced ginger gift biscuits popular again. Today, the biscuits are still made in Cornwall and the company has expanded to produce shortbreads, chocolate biscuits and savoury crackers, as well as confectionery.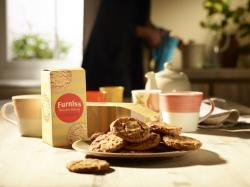 As I love ginger so much, what better than a double whammy – to dunk a ginger biscuit into a ginger and lemon tea? Perhaps this is overkill, but for me, it was perfect. I tried this with one of the Original flavour biscuits, and all I could say was, "mmmmm". A lovely crunch, with syrupy flavours expanding with every munch, it was very moreish. So I had another. This time, the Spiced Lemon – the scent of these was intriguing; a fresh zestiness with treacle undertones and the flavour was great, too. I decided not to dunk this one, so the initial crunch was a nice change.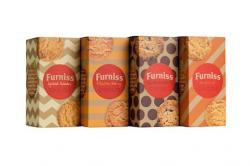 Next was the Dark Chocolate Chip – what better combo than ginger and chocolate? (Chocolate is my first love, but that's another story.) And yes, it was delicious, no surprises there! I followed this with the Blossom Honey, which had a more flowery aroma than the others, but I couldn't tell much difference in the flavour between that and the Original. Still, it was just as delicious.
If I had to pick a favourite, it would be the Spiced Lemon, with the Dark Chocolate Chip following a close second – ginger and lemon is such a winning team (as proven by my ginger and lemon tea), that it was unusual and satisfying to experience that flavour combination in a biscuit.
My only complaint is that there just aren't enough in a packet. Still, at £1.49 for a 160g pack, they are little bit of luxury that won't break the bank. 
Buy online at furniss-foods.co.uk or selected Booths or Sainsbury's.