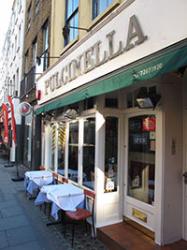 Ignoring a string of bad reviews on restaurant websites, I turned a blind-eye to the keyboard critics and had dinner at  Pulcinella on Old Compton Street anyway. Surely these were just the failed scholars of the internet age, too lackadaisical to obtain a degree or complete their NUJ; I wasn't going to listen to them. I don't listen to anyone when I'm hungry. Not my mother, my friends, my girlfriend or my priest, but there's a voice in my head calling for PASTA and BALLS OF MOZZARELLA.
It was pre-dinner scramble and the theatre-influx had yet to descend. A scattering were already inside: a couple sharing a mushroom pizza, another picking through a plate of antipasti, and in the corner, a man crying into his Arrabbiata. But what an Arrabbiata! With thick penne, chicken and spinach; piled high, and fragrant. I didn't want to get too close, if I showed interest he'd engage me, and I didn't want to get lumped with a sobbing loser.
A pretty girl brought me the menu, never a bad thing (right up Berlusconi's street), which read of Italian validity: scaloppine, carpaccio, bruschetta, ravioli and the inevitable prosciutto crudo. Soho is fast becoming THE place for authentic Italiano, the revival of London's Little Italy. Polpo, Polpetto, Bocca di Lupo, Vasco & Piero's Pavilion, Mele e Pere and Bar Italia have all transformed the grid between Regent Street and Charing Cross Road. Soho used to be all neon-naughtiness and girls at the foot of stairwells; it went from go-go to the go-to place for cicchetti and pizzette.
The decor lacks an Italian feel, what with Picasso prints adorning the walls, but the food looked promising and the staff were in good spirits. These places have moved on from the faux-Italian rusticity and age-battered terracotta dwellings. There's no vines creeping up the walls or candles in hay-wrapped Chianti bottles.
The Italian ethnology has shifted in restaurants. Polpo retains an authentic Venetian feel with melancholic lighting, exposed brick and beautiful cured meats and mortadella, while Mele e Pere has its multicoloured apple and pear glassworks window display and serves Vermouth over Valpolicella. But this isn't a comparison piece. Pulcinella is privately owned and a different eating experience, more local ristorante than bàcaro. It is austere, miminal and unpretentious.
My Melanzane alla Parmigiana comes with deliciously plump aubergines, more oiled-up than the boys across the road at G-A-Y, and there was ample mozzarella and tomato sauce, with a finish of oregano. It's straightforward production and sometimes that's the most difficult to pull off. There are no truffle shavings, no over-priced olive oil, no pomp.
The Linguine Frutti di Mare is a generous serving of pasta and seafood. The last time I was in Italy I had a masterful Frutti di Mare in Positano, with classic al dente spaghetti, hauls of garlic and superb mussels and clams. This rated just as highly. The clams were removed from their shell, which was a shame. There's a sense of unveiling excitement and theatre in seeing the meaty molluscs peek from their casing. Mixed in were shrimps, squid, mussels and cherry tomatoes, and I finished the dish with a drizzle of oil and black pepper, as it should be. There's really no need for sauces and mixtures that consume the natural flavours. I want to taste the pasta first. You pay more attention if there is less sauce.
A glass of Montepulciano D'Abruzzo, at £4.40 a glass, is perhaps not best suitable for seafood linguine – there's a taste of Morello cherries and spice – but I like it, and it gets the Sophia Loren lookalike back to my table, and for that I commend Pulcinella and their sexy evocation of hospitality.