36 Stoney St London SE1 UK  www.pulia.com
A little bit of Pulia has arrived in London, Nick tries a quick bite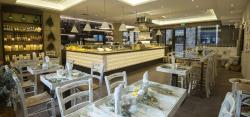 It's a little explored region of Italy but Apulian cuisine and produce has a good rep with those that know. Getting the good news out to a wider circle is the intention of Pulia who want to showcase the depth, breadth authenticity and desirability of Apulian food through a portfolio of global shops and by working in partnerships with artisan food, wine and olive oil producers in the region.
Well there's now a Pulia next to Borough Market and, despairing of lunching with the mobs in the market itself, J and I flopped into Pulia instead lured by a cool clean bright style of tiled decor and serried ranks of deli delicacies in the cold counters. It's not a restaurant as such; it's a place to eat the produce that's on sale. So most of it is cold but they do a range of pasta dishes at lunchtime, which we didn't go for feeling we needed something a bit lighter.
Cheese or meats? Meats or cheese? We wanted both and lo and behold they do a mixed plate which is handy, and contains burrata which is better still. Burrata is God's own cheese in my opinion, but it has to be fresh. Name dropping furiously I can reveal that Jody Scheckter once told me that when he was at his motor racing peak he had burrata flown to him wherever he was in the world. Money was no object.
Being a bit less wealthy I don't get to eat burrata as often as I'd like, but here on the large sharing plate it comes in all its glistening, ice-white glory. And to complete the picture: Faeto ham (a kind of Parma ham made in Puglia, slightly sweeter and more tender). Capocollo from Martina Francan made from wild pigs who feed on oak fruits from the area (fragni)  Larded fillet, a fatty treat that's typical of Puglia and curious but delicious, Nodini (mozzarella bows), a classic Bocconcino plus a baked smoked cheese with thyme and tomatoes.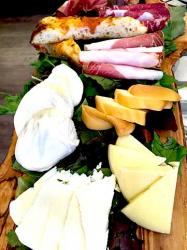 There was more than that but to be honest, some excellent olives for example and focaccia moist with tomato, but we were too busy lowering it down our throats to make notes. The focaccia helped fill us up and some Pulian wines by the glass helped cheer us up.
The meats were especially good, that larded fillet was a fatty delight, like the best Spanish hams it melted on the lips and no doubt went straight to the hips. Each cheese had its own character and the smoked cheese was particularly good. The glasses of Apulian red and white made it a fast but tasty lunch stop and a brief tour of the produce shelves could have proved wallet-lightening had I not had places to go and people to see and no space for extra baggage.
I like the idea behind Pulia; it's not a restaurant as I say and so it's not open in the evenings. It's a good showcase for the region's products and good place to fill up and stock up on quality foodstuffs, after staggering out shell-shocked from mobbed up Borough Market with a bag of vegetables you never knew you needed or could afford.