45 Frith Street, Soho, London W1D 4SD jeanjacques.com
The Russian invasion of London continues; when they aren't buying all the best homes, they're opening restaurants. Nick tries a new one that has a French accent.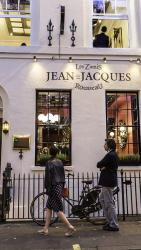 The idea of Russians running a French bistro is not entirely odd, after all it's generally accepted that the Russian word for quickly'bistro' is where the name came from. Incidentally, fun fact alert, the Russian for railway station is'Vokzal', because Russians thought Vauxhall was our name for a station. Or so I was told when I studied Russian for O-level a thousand years ago.
The name Jean Jacques is not a homage to the somewhat violently inclined bass player of the Stranglers, but presumably a reference to Rousseau, who was in fact Swiss although he got out of there faster than Neil Young quitting Canada. There are Jean Jacques restaurants in Moscow and St Petersburg, the latter once the most westernised – i.e. French – city under the Tsars.
JJ's' London gaffe is a characterful old house in Frith Street; red painted walls, banquettes, marble tables, sash windows and everything you might expect. All that the decoration needs is time because right now it's a bit too bright. Jacques has three floors and on the first you can eat and smoke outside at the same time; say what you like about the Russians, they have at least not succumbed to the dead hand of the health Nazis. So overall you can be sure this place is not going to get a good review from the Guardian or Observer, it ticks all the wrong boxes for that, but let's talk about the food shall we? After all, that is what we came for.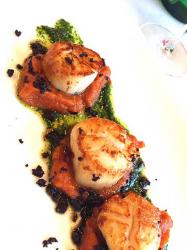 The menu is, obviously, overall French although Borscht slips in. That's okay, it's a bistro dish. P eschews that for a large salad of baby veg with, we are informed, homemade fromage frais. It's a bountiful plateful and each of the veg is allowed to be itself, just as young people today always insist they need to be, innit. The cheese adds a welcome moistness and tang to a plate of healthiness, as does a good glug of olive oil. Sadly no bread has been provided, which is obviously a cardinal sin in a French restaurant but an oversight apparently as when I mention it later to our classically garbed waiter he is mortified and apologises.
I have Scallops St Jacques, which seems only right to do, and these come well-presented and properly caramelised. The salsa verde is bright and cheerful and the tomato and olive fondue they sit on is rich and peppery, the scallops themselves are fine quality. Hand dived? I don't know. I am not so sure it matters since I met some scallop fishermen and heard their side of the story.
I fancy more fish so order up the Gilt Head bream with cauliflower puree, lemon butter, capers and almonds. It arrives cooked exactly how I like and expect it, the skin crispy and undamaged the flesh tender and moist. Some of the cauliflower comes as small, browned, slightly crunchy florets and I like these a lot too. It's a well thought through dish, simple but not plain and so the very essence of Bistro-ness. And I have frites, proper ones that are thin and crispy.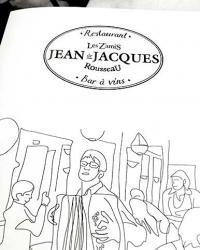 Lamb for P and no one asks how she wants it cooked, which is okay as in France it's assumed you want it cooked pink or you'd have been eating in a burger bar. It's quality lamb too, a chunky bit of rump in a herb crust and with a ratatouille that isn't mushy but has bite. The dauphinoise is too dried out though and has shrunk away from the dish sides; this tends to happen if it's been cooked too far in advance.
A classic creme brulee doesn't disappoint and neither does apple pie with'creme normande'. A bottle of red, from a quite steeply priced wine list, pushes up what would otherwise in this location have been a reasonably priced meal for two to something a bit more painful but still okay.
JJ falls I suppose between a Cafe Rouge level of place and a Balthazar, which is a market position that may yet prove to have jambes. The food is good but it rather lacks atmosphere at the moment, but then we did go in the early evening dead zone and I suspect that it's at lunch when it will best come alive.