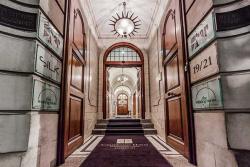 The Courthouse Hotel London is putting their own unique spin on this year's Afternoon Tea Week, taking place from 10th – 16th August 2015.
Afternoon Tea Week celebrates the heritage of the popular leisure time across the UK, and this year The Courthouse Hotel London is providing a sumptuous offering in-keeping with their ever-present sense of history paired with contemporary style.
Their unique in house Asian restaurant, Silk, elegant and evocative in decor (still complete with many of its original courtroom furnishings, including Judge's bench, dock and witness stand) will see them host a unique Japanese Afternoon Tea, complete with an array of authentic delights including 'Tamago' a Japanese sweet omelette and an 'Inari Pocket', Honey Marinated Tofu Fillet with Rice.' During that week only guests can also sample a complimentary plum wine alongside.
Also available at Silk, will be an Asian Afternoon Tea, with flavoursome nibbles including'Kutchi Dabeli' Fruity, Sweet Potato filling in Steamed Buns, and'Sev Aloo Papdi Chaat' Crispy, Savoury Puffed Pockets lined with Potato, Sweet Tamarind and Mint Sauce. Also served with a complimentary glass of champagne during that week.
The hotel stands as a staple venue of London's history; once notorious as the Great Marlborough Street Magistrates Court, where the likes of Oscar Wilde, Mick Jagger and John Lennon were tried, it now operates as one of the city's most legendary and opulent hotels.
Always at the forefront of the Central London trends, The Courthouse Hotel strives to provide a little something extra, making it the primary choice for experience and comfort.
The Courthouse Hotel, 19 – 21 Great Marlborough Street, W1F 7LH