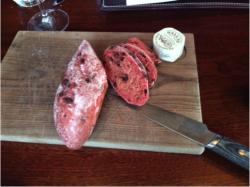 For me healthy eating and restaurants don't go together. Eating out decisions should not be made on calorie counts, or carb-considerations, but on temptation, enjoyment and want.
Maybe it's people with opinions like my own that are responsible for children the size of small cars, but lets not dwell on that and instead talk about a restaurant that is quite clearly in the same'forget-fat-camp' as me.
The Meat Co is a high-end South African steakhouse slightly obscurely located at the Westfield in Shepherd's Bush. Surrounded by the likes of Wahaca, The Real Greek and a Geronimo Inn called The Bull it's a little like a private school boy who's found himself at a state school party. But then the private school boy would probably bring the most beer so maybe that's not such a bad thing.
My accomplice and I arrived around 7pm on a Saturday and had a quick beer in the bar downstairs first. The décor is suitably South African and the staff quite merry; there's also an impressive floor to ceiling glass covered wine rack at one end. A nod to the opulence that was to come.
Menus at The Meat Co are unsurprisingly, well, meaty. Steak is sourced from across the UK, there are racks of ribs, grand skewers of hanging lamb and burgers. A few fish dishes get a look in too, and there's a tiny, underwhelming vegetarian menu. Still, a vegetarian who heads for dinner at The Meat Co is asking for trouble, like a Nazi going for a boogie at Notting Hill carnival, nothing good can ever come of it.
Our friendly South African waitress suggested the beetroot and chocolate bread while we looked at menus, and wisely we followed her advice. It wasn't as heavy, or earthy, as expected but nicely warmed and sweet in a good way.
I had expected a sea of businessmen on expenses. Hammering their work credit cards with huge slabs of meat and pricey bottles of wine, before sliding off their wedding rings and shuffling off into the night. But I couldn't have been more wrong. It was all families and couples and groups of girls setting up photo-shoots in the unisex toilets.
Starters arrived and my food jealousy began. My calamari was good, nice large pieces of squid and decent dipping sauce, but my accomplices rib meat and scallop trio stole the show. The scallops were cooked perfectly, just caramelizing on the outside, perched on top of salty, slow cooked rib meat. At twenty-quid they should've been good though, and I hadn't seen him for a while, so I kept the peace.
We were offered a small break between starters and mains, which I always think is a good idea. It gave us chance to take another few scans of the room, enjoy the bottle of pinot noir our waitress had recommended and debate how The Meat Co had found itself at The Westfield.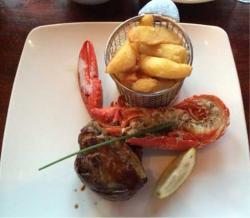 Mains arrived with no nonsense presentation. My full rack of beef ribs spanned the plate, its dark, shiny bark broken by a single chive somewhat oddly balanced on top. The best ribs in London? I'm not sure, but between forkfuls of the sweet, slow cooked meat and crunching nicely cut chips, I also didn't really care. It was a satisfying dish.
Chasing his obvious aim to outdo me, my accomplice's main was a little more extravagant; a fillet steak was accompanied by half a lobster and a slab of fois gras. The plate was a trio of luxury, completely unnecessary, like first-class train seats or electric tin openers, but it was delicious. Everything was cooked as it should be, perhaps not presented particularly beautifully, but then it was an orgy of meat, lobster and pumped up liver so beauty could take a back seat.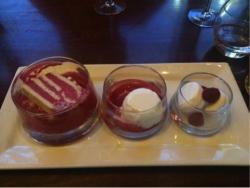 I didn't do dessert, I couldn't do dessert, but my accomplice soldiered on and once his toasted coconut and raspberry vacharin hit the table I changed my mind and requested another spoon. Three separate compartments came stacked one on top of the other; raspberry coulis, coconut ice cream, coconut meringues, a slice of layered coconut and raspberry cake. The range of textures, flavours and combinations were ingenious. A brilliant dessert. Coming from someone whose eyes usually dart towards the cheese board.
Would a sensible person go for steak at a Westfield shopping centre? Possibly not.
Could a sensible person find better value, more interesting food elsewhere in the capital? Probably.
But The Meat Co isn't supposed to be sensible. The Meat Co laughs at sensibility whilst serving extravagant, expensive, delicious food and for that it has my respect even if not my regular custom.
Still not spent your bonus? See how Nick got on at a Russian owned Italian in Mayfair.