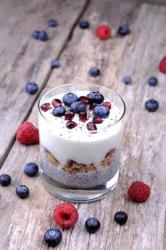 Simple yet nutritious, Chia Bia is the new store cupboard essential that will leave you feeling happy and healthy from the inside out. Chia seeds make the perfect partner to the foods you already love – and just two spoonfuls every day will power your body with the nourishment and fuel* it needs to feel tip-top.
With a subtle taste, chia seeds are the perfect way to add a daily dash of goodness to favourite everyday dishes – without compromising on flavour. Simply sprinkle onto granola for breakfast, blend in a refreshing coconut smoothie or add to some courgetti for an easy mid-week meal.
Chia Bia is encouraging everyone to try the tiny seeds each day for two weeks and see if you can feel the difference. Share recipe creations using the #chiabiachallenge and join the Chia Bia community @chiabiaseed for more inspiration.
The Chia Bia seed range includes whole and milled varieties, plus two chia berry mixes – cranberry or blueberry. The range is available from Holland and Barratt, Ocado, Amazon, Selfridges and independent health stores nationwide with RRPs ranging from £5.49 to £9.99.
The health benefits:
Chia is the highest-known plant-based source of omega-3 in the world which works to maintain a happy heart and strengthen the brain
High in fibre, the tiny seeds aid digestion and help to balance blood sugar levels and reduce cholesterol
Chia helps to reduce inflammation and improves circulation
High in zinc which is known to benefit the immune system and nervous system
Chia is a complete (plant) protein – making it a perfect source for vegans and vegetarians
Try this easy Chia Bia breakfast recipe to kick start your day…
Berry Chia Seed Yogurt Parfait
Ingredients
2 cups coconut milk
2 cups plain Greek Yogurt
1 tablespoon honey
¼ teaspoon vanilla extract
½ cup whole Chia Bia seeds
1 cup granola
½ cup fresh blueberries
½ cup fresh raspberries
Method
In a large bowl, combine the milk, half of the Greek yogurt, vanilla extract and the honey
Stir in half of the chia seeds
Blend well with a spoon and let this mixture sit in the refrigerator for 20 minutes, stirring occasionally
When the mixture has become thicker with a gelatinous consistency, divide it evenly between 4 tumbler-sized glasses
Put ¼ cup of granola into each glass on top of the mixture followed by the fresh fruit
Spoon the remaining Greek yogurt evenly between the glasses, placing the yogurt on top of the blueberries and raspberries
Add some blueberries and raspberries to each glass, and sprinkle the remaining chia seeds on top