And here, we see, grazing on the serengeti of Regent Street, the lesser-spotted foodies. This docile yet difficult to please group migrate to this stretch of fertile land when the food sources are at their most abundant during the week of Discover Food and Wine to top up their summer reserves with cocktails, wine and fine dining before the all too brief eating season is finished and they're left to forage for themselves.
I travelled to Regent Street to join this group on a safari with a difference – a food safari to be exact, where I hopped like a greedy butterfly from one venue to another sampling dish after dish at one of London's most vibrant restaurant scenes.  
We started gently, easing in with a bitter-edged floral cocktail in the plush, masculine surrounds of Hotel Café Royal's Green Bar. I tried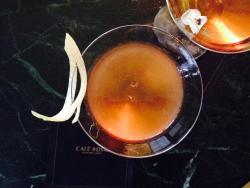 the Cyphre Caress, a heady blend of gin, jasmine and honey created by the Green Bar's head mixologist, Antonio Catapano, to celebrate the launch of Givenchy's latest fragrance, Imortelle Tribal. The exclusive collection of eight cocktails is available in the Green Bar until 10th September 2015.
There was nothing slow about the next stop, Bentley's Oyster Bar & Grill, where flutes of bubbles appeared within seconds of settling in at the gleaming bar; quickly followed by a platter of succulent, impossibly large Oysters, fresh from Northern Ireland and swimming in a sick of saltwater. They were ridiculously tasty. The crusty bread with seaweed butter and the little dish of pink-tinged shallot vinegar they came with were stupidly good. In short, I could have happily stayed here, become pleasantly sozzled on champagne with the attentive, affable bar staff and eaten my way through everything on the menu.
But therein lies the slight problem with a food safari, sometimes you want to stay
longer and sample more than a single dish at one venue. Despite leaving the excellent Bentley's far too soon, luckily for me, it was Brasserie Zedel next on the list, which, as I descended the staircase to the basement banquet hall, made me feel as though I was visiting a can-can dancer's boudoir.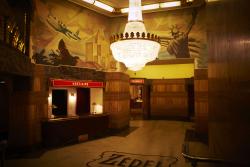 Inside the cavernous restaurant,the pleasingly-authentic French waiter looked appalled when we informed him that we were only staying for a starter sized portion of feathery slivers of Jambon de Bayonne and Melon Charentais and a small glass of crisp, grassy Vouvray Chenin Blanc 2013 before stampeding to the main course event.
The next place had been on my london hit list for a while: Gordon Ramsay's Heddon Street Kitchen. A dimly-lit haven of polished parquet floors and tan leather banquettes that sprawls over two floors, where I was immediately offered a squat mug of Heddon Street Grog, a Bacardi and beer based cocktail that has more than just a hint of the pirate about it.
The cocktail list here is both extensive and impressive, which is unsurprisingly really, when you consider that it's been curated by Dan Berger, who came runner-up in the Bombay Sapphire World's Most Imaginative Bartender 2015. Aside from the cocktails, and the rather lovely bottle of Fleurie that I managed to savage, there was a main course to be had.
The menu here isn't extensive but it is interesting, with some Asian inflections that warrant proper scrutiny on a full-length visit. In my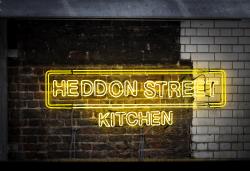 time-pressed and alcohol-induced foggy state I picked a T-bone from the grill section, eagerly anticipating a thick, juicy steak to arrive. One did, but not the steak I was expecting. The T-bone at Heddon Street is a 12-oz Dingley Dell dry-aged pork steak, which, while unexpected, was perfectly cooked, slightly pink in the centre and served with an exceptionally good portion of sweet, crunchy summer beans doused in olive oil and dusted with curls of parmesan and shards of tangy shallot from the side order menu.
There was barely time to digest this, though, before we were trotting to the next place: ICEBAR London, where we showed up sheepishly late and so were smartly ushered into some overgrown fur-lined capes and down into the basement, which has been transformed into a winter wonderland, complete with ever-changing ice sculptures and subzero temperatures.
I've oo-ed and ahh-ed at the neon-splashed igloo that is ICEBAR before, so the shock and awe of wrapping my lips around a chunk of ice to sip my drinks was slightly diminished. That being said, the novelty of sitting in an ice pineapple or a tuk-tuk carved from blocks of ice while sipping said drinks never will never wear off.
Upstairs in the warm, there was a slice of strawberry tart – just saved from being overly sweet by its hint of basil – to sample and a cocktail that smelt of rocket fuel and tasted…well, the less said about that the better, but if you find yourself in the bar, order the Walk in the Green, go on, I dare you.
All that was left then was to migrate back to my natural habitat, which was, in this case, back to Heddon Street Kitchen for a gin-laced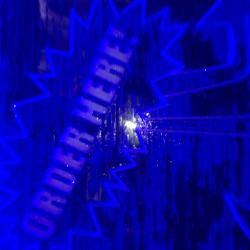 nightcap. Or, as David Attenborough might say: slowly, weighted by her own gluttony, she returned to her cave, dazed by the feast yet sated.
Discover Food and Wine on Regent Street, stretching from 3 – 9 August, will see a gathering of the area's world-renowned head chefs and offer exclusive competitions and activities. FInd out more about the deal, discounts and featured restaurants and bars, here.