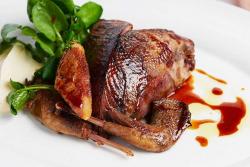 To celebrate the start of the shooting season, on the 19th August, Galvin Restaurants will host a series of special menus with wine pairings at both La Chapelle and Bistrot De Luxe. And if that wasn't enough they will also be including a classic grouse dish with game chips, watercress and bread sauce, which will be available on the à la carte menu at all of their restaurants throughout the season.
The five course menu at Michelin starred restaurant La Chapelle will be held in the upstairs gallery and will include Lasagne of Dorset crab, sweetcorn and lemongrass velouté, Roast Yorkshire grouse, savoy cabbage, roasted fig, game chips and bread sauce and Saint-Marcellin with salad of lamb's lettuce and truffle salad.
The four course menu at Bistrot de Luxe, which is celebrating it's 10th anniversary, will include Scottish Girolles, fried duck egg with smoked Montgomery's cheddar and Classic Roast Grouse with game chips, watercress, game crouton, bread sauce and jus. The dinner will be helps in their private dining room, Le Cellar.
Of the dishes, owner Jeff Galvin says'We will be serving this dish from the 19th August after the grouse have been hung for a week.  In the past we have had fun (and stress) racing the birds down on the 12th, tracking them from the moor to the kitchen for waiting guests.  Game is a wonderful wild product that tastes like nothing else. It is always varied with different flavour notes which invites exciting wine pairings.We love the 12th ! It is the day that heralds the beginning of the game season as thoughts turn to Autumn'