The Queen Adelaide, 412 Uxbridge Road, London, W12 0NR www.realpubs.co.uk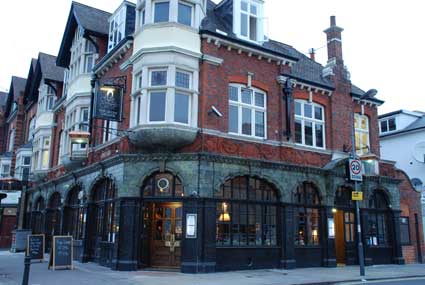 If only all pubs were welcoming drinking taverns that also managed to knock out robust and hearty British nosh. Unfortunately, far too many 'gastro pubs' have forgotten that they were once pubs at all, while the rest of the capital's locals now seem to now serving Thai food.
Step up the Realpubs company, owner of The Queen Adelaide and eight other 'urban locals' including The Oxford in Kentish Town and Kilburn's North London Tavern. The company has done a great job in creating suburban watering holes for locals with dining rooms that provide some very decent food.
As we arrived on this occasion The Queen Adelaide was in full flow. Throngs of QPR fans were catching a quick ale before heading round the corner to the game at Loftus Road – how much more local can you get?
By the time we sat down they had departed but the open plan kitchen and dining room can be separated from the main body of the bar with sliding doors should the need arise to keep a barrier between the beer-swilling masses and your dining table. Chandeliers, oak panelling and smart retro wallpaper complete the mock Victorian décor that combines the formal atmosphere of a dining room with the relaxed informality of a pub.
The menu is British and European with a good variety of meat, fish, game and vegetarian options. A generous bowl of meaty Scottish mussels in a creamy garlic and thyme sauce was a good place to start. A hunk of dark, crusty bread would have accompanied them well to mop up the juices but strangely, wasn't provided – isn't bread obligatory with mussels? The baked ramekin of crab meat though was rich, generous, delightfully unfussy and accompanied by some sturdy looking toast soldiers.
Next up came a grilled pork chop which was almost the definition of comfort food – the lean, juicy chop the size of a man's hand, accompanied by velvety smooth mash, a rich, smoky, paprika-red chorizo sauce and braised red cabbage. It was dish made to be eaten on a cold winter evening with nothing too strenuous planned for afterwards. The plump cod steak on the other hand, with curly kale, mussels, king prawn and garlic butter was a wonderfully fresh tasting three-pronged combination of sea flavours.
Both dishes were bold, handsomely flavoured and unquestionably generous, which was a good thing considering – as this is still essentially a pub – that a two course meal for two with starters and wine is likely to cost between £40 and £50. A general over eagerness at the start meant desserts were out of the question but the offer of cheese proved too alluring and very little arm twisting was required to temp us while finishing off our bottle of fruity, and very drinkable English wine from the Three Choirs estate in Gloucestershire. The oozing Roquefort, sharp Quicks cheddar and good Manchego were the highlights of a very diverse cheese board.
It's not cheap, but if you are looking for what seems to elude many suburban areas of London – a local pub with plenty of beer, unpretentious British food and excellent service – you'll find The Queen Adelaide serves up all three in abundance.
David Mitchell