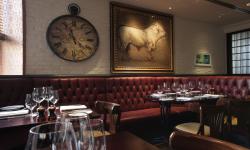 Blame The Lockhart. Blame Andres Balaz. But Marylebone is having a moment. Now we're not saying your first choice shouldn't be Chiltern Firehouse or Brad McDonald's slick menu of Southern dishes – but if you lack the requisite reservation or funds, or just want another eating option in close proximity, then let us introduce the Reform Social & Grill.
Hidden in the five-star Mandeville Hotel, this British-led brasserie actually opened its doors a couple of years back. Yes, we know what you're thinking "If we haven't heard of it then there's probably a reason" and we thought the same. But then we did a Google search and found a couple of fairly decent reviews from reputable critics and booked a table before another 30 must-try restaurants made themselves known.    
And we're glad we did because, despite it not having a Head Chef sprinkled with stardust, its kitchen is knocking out some pretty stellar stuff. The problem is (there's always something when somewhere serving food this tasty isn't heaving and gaining continuous column inches), it lacks atmosphere. Something that the other'it' crowd of brasseries have in abundance.
We won't hammer the point home too much (do a quick web search and its already been made), but we went on a Saturday night and it was less than half full. Of course the fact that is not packed to the rafters with London luvvies knocking back champagne and compliments does has it's plus sides (not feeling inferior being one of them) but it just doesn't make for as nearly as fun an experience.
We started with cocktails in the bar – a properly boozy Le Boulevardier and a too-pretty-for-its-own-good Ramonas Rose Fizz. Both were mixed expertly and came from a list with so many enticing cousins we went back after dinner to meet more of them.
The menu must have read well, because we sat fretting over it for ages before finally deciding on the Salmon Scotch Egg (which our waiter assured us was a real'hit' with customers) and Brixham Crab on Toast. Having chomped through countless protein-wrapped, golden orbs in the last couple of years we'd like to think ourselves experts. And our expert opinion is that Reform Social & Grill's version is really rather good. The egg is served chopped in two – with the burnished crust, pink flesh and a yielding yellow yolk poking out from a bed of straw and pea shoots. It tasted as it ought – crisp, well seasoned, fishy and rich with a few silvery shards of deep-fried skin on the side to add extra crunch.
The crab on toast should have suffered in comparison by being too simple. It didn't because well-dressed, super fresh crabmeat is a glorious thing, and this was exactly that.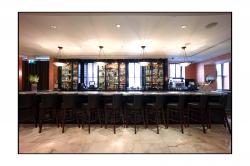 A mound of slow-cooked beef served with a dollop of buttery mash and a gravy rich with fat, wine and therefore flavour was not the prettiest plate of food we've seen, but was slurped up greedily nonetheless. As was a medium slab of rib eye with proper hand cut chips (so nice to have a change from triple-cooked oblongs and skinny frites).
Desserts follow the same patriotic path as the rest of the menu, highlighting the best of British in baked, steamed or whipped form. Sadly, despite Mary Berry's best efforts, us Brits have a reputation for stodge and neither the Sticky Toffee Pudding or Jam Roly Poly did anything to dispel this. But like the stern School Mistress in every Enid Blyton book, they won us over in they end with stoicism and impossibly sweet centres.
All other signs of a fine restaurant experience were there too. A sommelier who knew what he was doing enough to match our wines faultlessly; charming waiters who know that with water and bread you should just keep it coming and those curved banquettes that all the cool kids are doing nowadays.
We'll say it one more time. We liked Reform Social & Grill and, if you don't spent the evening holding it up against its competition and invite enough people to invoke some form of atmosphere, we'll wager you will too.