Fika, 161 Brick Lane, London E1 6SB / 020 7613 2013 / www.fikalondon.com
Sitting on a roof terrace in Fika's grove surrounded by autumn-hued foliage with the sounds of Commercial Street's traffic bubbling and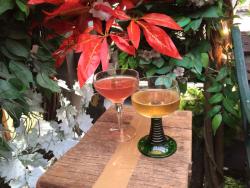 hissing in the distance and sipping intoxicatingly strong concoctions that tasted like the forest floor, N and I agreed that the Swedes have this Fika way of life down.
The term Fika is used as a noun and a verb to describe the uber Swedish occupation of taking time out to sip coffee and devour snacks – a very worthy pursuit – and it's also the name of the achingly cool Brick Lane's latest summer restaurant experiment. For the last remaining months of the temperamental British summer, this little Scandi eatery has transformed itself into the sort of enchanted forest you hope to find lurking in the pages of Hans Christian Andersen or Tim Burton's headspace in celebration of the Huldufolk – hidden people.
Pull up a chair now and you could be sharing your dining space as I did with a topiary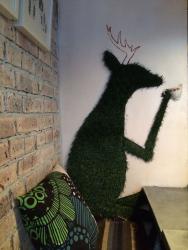 reindeer or eating under an industrial lamp that's choked with a wreath of white-painted vine leaves, although you're more likely to spot fashion-conscious hipster pixies than anything that looks like it could have stepped out of a Brother's Grimm fairy tale here. N and I investigated one rainy evening to see what there was to Swedish food beyond meatballs and Kopparberg cider.
Post pre-dinner cocktail the wander in the forest started dreamily enough with N's Tre Sorters Sill, a trio of pickled herring and crushed potato, and my Beetroot and Birch. The fish were tender, sweet and mouth-suckingly sour, although N struggled to differentiate between the three distinct pickling flavours or onion, garlic and dill.
My dish consisted of thin slivers of near-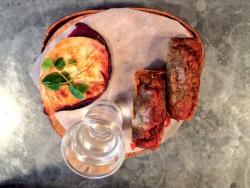 transparent pink-stained beetroot and crumbling goats cheese with a warm, mini loaf of dense beetroot bread, rippled with purple like shot silk and tasting of earth, salt and nutty wood sorrel. The accompanying shot of birch tree water tasted like licking rainwater from leaves…in a good way – a tangy, sweet, fresh taste revelation that I would recommend to anyone.  
So there we were, strolling in the woodland quite contentedly until we got a bit lost in the wilderness with the arrivals of the main courses. N's elderflower chicken skewers were succulent, generously-sized and flavoured with the merest hint of sweet elderflower and a wash of chili, although the accompaniment of grilled mash (basically the top of a cottage pie) seemed out of place. My main, the slow cooked and pulled ox cheek with black truffle potatoes and seasonal foraged leaves looked intimidating on the plate and proved just as difficult to eat in reality.
It was meat, plain and simple, seasoned but unsauced mouthful after mouthful of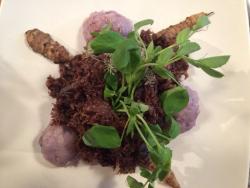 meat. The purple, truffle-scented potatoes were nice but there's no way they could cut through the cloying, fatty richness of two tons of shredded ox cheek. Ditto the undercooked, tough-skinned jerusalem artichokes, which came unadorned and tasting of, well, earthy tubers and little else.  Halfway through, the combination of rapidly cooling meat and mash had almost glued my mouth shut in a savory paste. If you're a dedicated carnivore with a penchant for slabs of unaltered flesh then this is your ideal dish, but it left me desperately seeking sauce and trying to conceal mounds of uneaten but much prodded ox cheek under thin layers of cold mash so as not to offend the delightfully sweet and attentive staff.
We reached a woodland clearing with the arrival of dessert though. N's Swedish pancakes were very much like English pancakes and came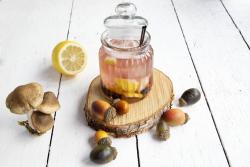 scattered with berries, splodges of chocolate spread and what may or might not have been that most unacceptable but childishly desired of pudding toppings – squirty cream.
I went full Fika with the trio of a dense, mildly sweet cinnamon bun, glass of coffee and a shot of Linie Akvavit, which I later decided must translate as either fire water, gut rot or brain killer,despite being, as the waitress insisted,'very popular in Norway.'
It might not quite have been a midsummer night's dream, but it was certainly worth heading down to the woods for Fika's fresh starters and inventive cocktails alone – on that note, try the Forest Clearing cocktail or Siren's Call, which claims arrives with a musical touch (forget the exotic promises of cloudberry, samphire and white port, it's almost worth it just for the look of pure horror that crosses the waitresses' faces upon ordering, as they apparently live in dread of customers demanding that they sing on delivery). Take a trip before it disappears and is reborn in a new guise.