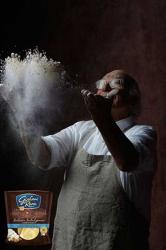 For a limited period only, the Rana family will be opening the doors of the Giovanni Rana restaurant kitchen in Regent's Place, for an exclusive pasta making masterclass with Mr Giovanni Rana and Antonella Rana.
During this exciting session, Mr Giovanni Rana himself will help show you how to make exquisite, fresh-filled pasta from scratch, leaving you with the skills to wow friends and family at your next dinner party. 
Loved by Italians everywhere, Giovanni Rana is one of the most cherished culinary secrets in all of Italy. Artisan pasta maker for over 50 years, Giovanni Rana's pasta is made the Italian way, with the very best ingredients, all combining to create a unique product of the highest quality.
If you love pasta and want to learn how to recreate it in your own home, be sure not to miss out and reserve your space, as places are limited. For more information on Giovanni Rana visit www.giovannirana.co.uk
To buy tickets to this exclusive event visit: giovannirana.eventbrite.co.uk/
Giovanni Rana Restaurant, 17/19 Triton Street, Regent's Place London NW1 3BF