Aqua Nueva 5th Floor, 240 Regent St, London W1B 3BR www.aquanueva.co.uk
The first challenge F and I had with Aqua Nueva was finding the place. Google maps stubbornly insisting that it lived above the apple store on Regent Street. It doesn't. After fruitlessly wandering around for a while, a kindly waiter from Bella Italia took pity on us and pointed towards what looked more like the entrance to a swish gym/business centre hybrid than a restaurant, which was further compounded by the sleek black-lit lifts that you have to take to find Aqua's two restaurants: Kyoto and Nueva.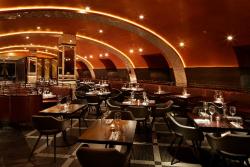 Then there was the dimply-lit labyrinth of black marble and plush booths that you have to navigate to get to Nueva. You know you've arrived when you catch a glimpse of the huge blue bull that looms through the gloom, guarding the end of the maze like some sort of mythological minotaur. The final challenge I had with Aqua Nueva was just how unutterably delightful the staff were, to the point that they were smiling at me so much I had to check to make sure that they weren't grinning at someone far more important behind me.
As a converted Londoner, I often treat overt displays of unbridled friendliness with suspicion, but there was something about the way the softly-spoken manager swept by to say hello while delivering glasses of fizzing cava and the way the waitress laughed her way through her favourite and most hated dishes on the menu that made this feel delightfully, enchantingly genuine. And what could make you want to love a restaurant more than a welcome like that?
I developed a reverence for traditional tapas after a lazy summer holiday with my mother, which we spent wandering around Granada, Seville, Ronda and Cordoba, ducking out of the fierce September sun and into the nearest dimly-lit bodega for little snatches of food at every opportunity. I remember eating fistfuls of salted almonds and fat green olives swimming in a slick of fruity olive oil and sipping mouth-strippingly fresh carafes of thin vino roja while we waited for fat croquettes studded with jamon and thick wedges of manchego to arrive.
Aqua Nueva's tapas-style menu is a world away from classic fare scrawled on a chalkboard in rural España. This is a primped up, poshed up, refined version with a pin sharp aesthetic that's served with a modernist edge and a nod to adventure. In short, exactly the things that would ordinarily send me running for the Andalusian hills, but, as much as my traditionalist self was rebelling, when the food is good, it's hard not to fall hook line and sinker for it.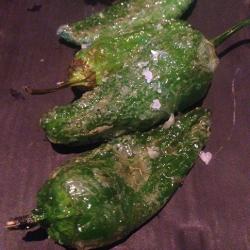 That being said, by far my favourite thing of the evening arrived first: teeny-tiny emerald green pimientos de Padrón, lightly fried and scattered with coarse sea salt. I'm always banging on about the beauty of simple things, and these were simply beautiful (which, at £6.50 a portion, they should be).
There was a lovely lightness of touch demonstrated again in a beetroot dish where thin slivers of purple-stained beetroot were paired with tiny morsels of fried Monte Enebro cheese and coated in a liquorice marinade that, thankfully, offered more of a fennel-scented tickle than an overly sweet liquorice allsort smack in the face. The small plate of coiled spirals of aubergine peppered with 34 different spices was perfectly pleasant, although would have been improved immeasurably if it was served warm and not limp and frigid.
There was one dish that left me completely cold, however, Aqua Nueva's take on that tapas stalwart, patatas bravas. Real patatas bravas should come in a golden, sizzling mass, smothered in a fiery red sauce that promises oily goodness and indigestion. The ones on this menu come bone dry, separated from their sauce by slate and a dipping pot. It was a step away from tradition in the wrong direction that reduced the generous and rustic nature of this dish into a sort of chip-esque side plate.
Luckily, by this point, a gloriously good glass of Blanco Rioja had arrived and I was distracted from my potato-induced irritation by its lavishly butter-soft floral flavour.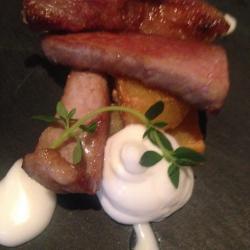 There are many meat and fish mains on this menu to tempt even tapas purists, from confit crispy pork with langoustines to razor clams with white asparagus and almond vinaigrette, but I was particularly impressed with the grilled Iberian Secreto pork that came in tiny, juicy little strips nestled between crispy fried potatoes and feather-light dollops of whipped, creamy aioli.
Desserts arrived in a flight and ranged from the sublime to the ridiculous. The white chocolate bavarois was delicately scented with just the right amount of rose to keep it on the right side of turkish delight instead of soap, although it could have done with just a touch less gelatin; while the decadent, almost spiced chocolate mousse was heaven on a spoon…the spongy olive oil bread that it rested on like a mutant loofah, not so much, although F was a fan of its cakey consistency and whisper of flavour.  
Then there were the vanilla tomatoes and goats cheese ice cream with baby bites of moist, salty olive cake and a smattering of confused strawberries. A dessert like this will always be divisive. Unfortunately for me, I'm of the mindset that it doesn't matter what you do to a tomato – dip it in sugar, serve it with syrup, cover it in gold edible – I don't want it on my pudding plate.
The most frustrating thing was that the sharp-sweet goats cheese ice cream was perfectly balanced and would have turned something like a wedge of baklava dripping with honey into something exceptional. It was an intriguing and brave venture, but for me it was a misstep.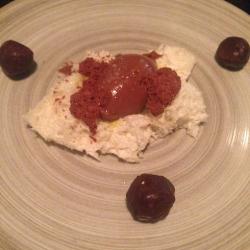 It all ended with a sip of fiery, dry-as-a-bone Goya sherry and another glass of that mouthwatering cava, which we drunk on their expansive terrace. Standing there in my everyday jeans and shirt, I was painfully aware of the flash, lithe young things showing off fake tanned limbs in teeny-tiny playsuits, Michael Kors and Mulberry bags clanging against their jutting hipbones as they strutted around. It struck me that, in parts, Aqua's sprawling complex feels a little like a high class playground for twenty-something cocktail swilling city workers with money to burn, so it's lucky that there are some excellent dishes and attentive staff there to pull it back from the edge of pretension.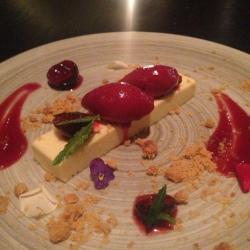 As I stood there looking out over the bleak but strangely beautiful panorama of London's skyline under the fuggy summer dusk, half-listening to a couple of Aussies trying to chat up a group of Spanish girls, I caught myself thinking that while it wasn't quite Seville, it was certainly something.