This September, Northern Chinese restaurant Hutong, is set to celebrate the annual Mid-Autumn Festival with a dedicated menu and specially paired wines and cocktails, available from 7th – 27th September.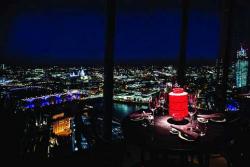 Head Chef, Bing Luo, has created an eight-dish menu which includes a delicately Braised cuttlefish salad, where the fish is presented in thin ribbons and tossed with Sichuan pepper to add heat, and coriander for fragrance. Two seafood dishes follow, including Hutong's signature Red Lantern: crispy soft-shell crab tossed with dried lantern chillis.
The recipe ensures the crab takes on the aromatic spiciness rather than the heat, which perfectly complements the natural saltiness of the crab. A meat course completes the savoury offering, and features Beer-braised short-ribs which provide complex spicy and sweet flavours, the succulent beef falling off the bone.
Hutong's in-house sommeliers and bar team have come together to highlight Chinese wines and spirits with a creative wine and cocktail pairing for the menu. For the appetizer, the Laoshan Mountain cocktail is an intriguing mix of Ketel One vodka and Tsingtao beer, given a sweet edge with elderflower cordial and pear purée, and an uplifting heat from the sweet chilli perfume that perfectly complements the subtle flavours of the cuttlefish and spinach dishes.
The seafood pairing showcases Tasya's Reserve, Chardonnay,a bright and fresh wine from Shanxi province in northern China, with peach and exotic fruit balanced by lively acidity, that refreshes the palate and cuts through the heat of the Red Lantern.
During the festival, family members traditionally gather to offer sacrifices to the moon, eat moon cakes and think about family and friends who live far away.  The Mooncake is the special food of the Mid-Autumn festival, its circular shape symbolising family reunion, so Hutong has created a sweet and unusually delicate Taro Mooncake for dessert. It has been paired with a Chinese Eiswein made from Vidal grapes in Huanlong province, home to the world's largest ice wine chateau.
From 25th – 27th September, guests will also be able to enjoy the art of lantern-painting, a traditional part of Mid-Autumn Festival celebrations. Displaying and carrying brightly-decorated lanterns is an integral part of the festival, and Hutong will be giving each table dining from the Mid-Autumn menu on these dates, a lantern hand-painted with lucky Chinese phrases.
The Mid-Autumn Festival traditionally honours family and thanksgiving, as well as the Chinese mythological goddess of the moon Chang'e and the archer Houyi. The symbolic Chinese holiday, which falls on the 15th day of the 8th month in the lunar calendar during a full moon, will be on Sunday September 27th this year.
The Mid-Autumn Festival menu is priced at £66 per person or £100 per person with the optional wine and cocktail pairing, and is available from 7th – 27th September 2015, 6.00pm – 10.45pm
To make a reservation, please call 020 3011 1257 email hutongreservations@aqua-london.com or visit www.hutong.co.uk