I consider myself a popcorn aficionado. I think it's genetic. My mum loves popcorn, my brother loves popcorn, I love popcorn and my two sons love popcorn. I use to make my own renegade batches of suped-up popcorn when I worked at the cinema as a youth and now I make it at home at least three times a week, and consider my technique irreproachable.
So when an opportunity to try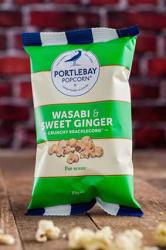 Popcorn's entire range of popcorn including their latest Cappuccino flavour, you can understand my excitement as I assessed each delightfully colourful packet and the seriousness with which I tackled the task at hand.
It all started with the Sweet and Salty Kracklecorn. By adding raw cane sugar to the popping process, the taste wizards in Devon created a snack that was crunchier and more brittle in texture than your average bag of popped corn.
But the real genius behind the Kracklcorn is the seasoning, which elevates this snack far beyond other brands. They've managed to find the absolute perfect balance of salty and sweet, entirely deserving of the popcorn empire that has since been spawned.
I prefer salted popcorn, so I was a little disappointed to find that the entire range of Portlebay Popcorn is in some way sweet. It's the Kracklecorn you see. But once I'd accepted the sweet and crunchy taste, characteristic of Portlebay Popcorn, I was able to move on and enjoy each flavour.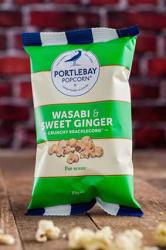 For salt-lovers like me, I would recommend the Wasabi and Sweet Ginger and the Chilli and Lime flavours. Still with that sweet crunch, these flavours felt more rounded out with the savoury element.
For those with a sweet-tooth, the Very Berry and Lemon Sherbet were the standout flavours. It was surprising and unnerving how much these flavours tasted like the real thing. A few bags of these beauties would add novelty to any party. 
I wasn't too fussed with the Crispy Bacon & Maple, which I thought would be amazing. Too much smoke and not enough pork perhaps. And the cinnamon swirl suffers from a little too much cinnamon and not enough salt to balance out the flavour.
Like the rest of the range, Portlebay's latest flavour Cappuccino is, well, peculiar. It's not overly sweet, the coffee kick sitting remarkably in the middle of sweet and savoury, and there is a distinct creamy after-taste.
But it's this peculiarity which makes Portlebay Popcorn such an exciting brand. I will be keeping one eye out for their next crackling creation, but I'll be on full alert for their original, and in my opinion their best flavour, the Sweet and Salty Kracklecorn.