It may have been a blustery week in Brighton, but there was a touch of the tropical at drakes, Brighton's top boutique hotel and fine dining restaurant.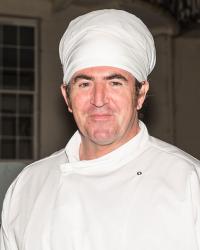 Welsh Rastafarian  Chef Craig Jones from the St. Lucian resort of Cap Maison arrived in Brighton on Wednesday August 26th to participate in the first part of the International Chef Exchange with drakes.
Craig created a Caribbean/French fusion menu which included 4 courses commencing with Snapper Ceviche, Yellow Fin Tuna, fresh Mango Balsamic, followed by Tortellini of Caribbean Shrimps, Lemon Grass, Lime Leaf & Coconut Nage, Pan Roasted Oxtail, Curried Pumpkins, Caramelized Plantains & Crispy Okras for main and finishing with a dessert of Avocado ice cream, Banana foam, Island Spiced Doughnuts. The food was beautifully presented and the flavours were an interesting combination in a seaside town best known for fish and chips and Brighton rock.
Each course was paired with wines to complement the dishes and to complete the evening was Cap Maison's own Solera blended rum (6 year old Port barrel ages rum is blended with 9 year old rum and further aged in medium toasted white Kentucky oak barrels) served with the darkest, St. Lucian dark chocolate truffles.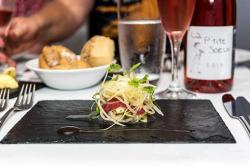 Festival director Nick Mosley said "Another successful chef exchange evening. Our two talented chefs really bonded, and the meal was astounding. We're very much looking forward to taking chef Andy to Cap Maison in St Lucia in October to showcase the best of Brighton & Sussex."
The Reciprocal event will be taking place on October 25th with specially "Taste of Sussex" dinner and featuring drakes Chef Andy MacKenzie at Cap Maison in St. Lucia.
The International Chef Exchange is an initiative driven by the Brighton & Hove Food and Drink Festival. Its further objectives are to share best practice between chefs and create a platform to showcase regional artisan produce to international export markets.
The restaurant at the boutique hotel drakes is a destination in its own right, with a reputation as one of the finest in the south of England. Brighton's most acclaimed fine dining restaurant received the highest score of all Brighton restaurants in The Good Food Guide 2015, for the 6th consecutive year. 
Images.  Julia Claxton