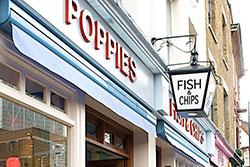 'Where's there a bloody good chip shop?' is a question probably not asked often enough; if you've ever read anything about fish and chips, you will of course be aware that the unequivocally beige meal is'the nation's favourite dish', despite the fact that most chip shops are rubbish.
The fish might taste mealy and dull, the batter could be greasy and soggy, the chips undercooked and tasteless – where there is scope to make errors through apathy, lack of expertise or gross negligence, the human being, particularly in a professional capacity, will often find a way.
And so it comes to pass that a dish comprising of two fairly simple components regularly tastes better in your imagination than it does in your mouth.
Pat Newland thinks roughly the same, and once told his son that if he ever got the chance he would show him "how a fish and chip restaurant should be done". After decades in the trade Pat, or'Pop', did get the chance, and the result is Poppies just off Spitalfields Market.
Three years on from opening, Poppies has been named Independent Fish and Chip Restaurant of the Year. In taking the award, the place (note correct spelling) beat a restaurant from Whitby into second, so it was with the maximum possible amount of scepticism that a Yorkshireman went to see if Poppies was really worthy of the title.
If you're strange and don't drink tea with fish and chips, there are local beers and wines on the menu, including a surprisingly good sparkling wine from English producer Chapel Down. It was with a glass each of Brit-fizz that we set about starters of prawn cocktail and wholetail scampi.
When I eventually get down to Hell, the devil will undoubtedly serve me a prawn cocktail while I'm forced to watch a series of Big Brother that never finishes. But for now, above ground, J has ordered one, and the'70s favourite comes out all resplendent in a big sundae glass. I concede that the prawns look fresh, and the amount I'm cringing at the slick of Marie Rose sauce means J's already enjoying herself before she's even eaten anything.
The scampi turns up shortly after and the batter looks incredible. It has that telltale sizzling dew on it that indicates it's been cooked to order, and the first bite reveals how light and crispy it is.
The meat inside is plump, glossy white and in big enough pieces that I assume this is langoustine rather than prawn. When scampi so often resembles a deep fried crabstick, this is a particularly enjoyable treat. Three big chunks quickly vanish and while drawing breath I see that the prawn cocktail opposite has quickly disappeared too. We're both happy.
On the basis of the plates being wafted past us, we order fish and chips to share. The portions are huge and mushy peas are served in a vessel halfway between the size of an olive dish and a trifle bowl.
When our almighty platter arrives, the batter on the haddock is excellent, even if it doesn't quite reach the dizzying standard set earlier, and the fish itself looks and tastes as fresh as the scampi. Pop is proud of the fish brought up from Billingsgate and on this evidence he has good reason.
At some point in time, chip shop chips went from tan brown to pale yellow, possibly because oil replaced dripping in fryers or maybe because no-one has the patience to cook them long enough anymore. Whatever the reason, chips have lost a lot of flavour as a result and it's the same deal at Poppies. However, as'modern day' chips go, I suspect these are about the best you can get.
After draining the last dregs of tea, we leave feeling full and content. Fish and chips is a hard dish to get especially excited about but a bad example is easy to get angry over, so it's good to know Poppies is doing it as well as their recent award suggests.
London is by no means the best place to get fish and chips in the country but it's safe to say that in Poppies, the capital does have at least one bloody good chip shop.