13 Albemarle Street London, W1S 4HJ  www.rextail.co.uk
Does Novikov own his very own tomato farm? At his Restaurant and Bar last year I was overwhelmed at the profusion of cherry tomatoes that came piled unannounced onto my plate.
I'd forgotten about that until my starter arrived at Rextail – a beautiful, languid pillow of Puglian burrata absolutely inundated with halved Datterinni tomatoes. I mean I like tomatoes but…
Of course some people see red at the mere mention of a Novikov restaurant, it is after all the antithesis of Shoreditch and its tattooed chefs. It's not hip, it's not happening and it costs a fortune into the bargain.
Well yes, but you have to appreciate who the target market is; not clones in matching beards and jeans but rich Mayfair people for whom money is rarely much of an object. The cost of a meal here is not really a true reflection of the quality of the food, but a filter to keep out the wrong sort of customer. A kind of invisible bouncer.
But having said that, the food is actually rather good at this place and the restaurant is itself a good place to be; cosily underground and kitted out with blood red, very comfy, chairs. There are things shot and stuffed on the walls (don't panic, they're fake ones) and there's an open kitchen at the back. It's the sort of thing Hix does so well, but for a very different demographic. No Observer readers will come here I don't think.
The'vibe' if I may use that word, is just right; the staff are relaxed and friendly and seem genuinely enthusiastic, while the menu is full of easy things that everyone likes to eat, – a big list of steaks, burgers, lamb, goat (yes) and other wood-fired fish and meats, plus charcuterie.
So like I said, my burrata is a blinder. As fresh as the breeze blowing down Albermarle Street and the tomatoes' sweet gentle acidity cuts the creaminess to just the right depth. Across the table crunchy green asparagus is topped with a duck egg that has somehow been deep fried in breadcrumbs and yet still remained runny. Very nice.
The steaks here are a price that might make even a millionaire pause thoughtfully, but then we spot that we are on the speciality page, knee deep in Wagyu land, and so turn back. The main steak menu is still a bit pricier than Harvester, but that's not surprising, and if anything it's below average for this part of town and for these well provenanced meats.
Over the table orders a charcoal cooked Rib Eye Steak on the Bone and is very happy with the flavour,especially when he gets close to that big bone, but would have liked more searing on the outside, something that a good charcoal grill really should excel at. His chips are good and I pinch quite a few of them and dunk them in his gentle garlicky Bearnaise sauce.
I've gone for Braised Oxtail and Roasted Peppers myself, perhaps subliminally influenced by the restaurant's name, but also because I do like oxtail.'It's Mr Novikov's recipe,' says the waiter, a reminder that the multi zillionaire owner went to catering college before making it big.
It's really gorgeous, each of the two tails has been cooked at the pace of paint drying, which is to say perfectly, and the flavour-packed meat drops languidly off the bone while the fats and cartilage have rendered into a superbly savoury sauce with the red peppers. I now understand why the waitress gave me a spoon, you really wouldn't want to miss any of this. I stir in a dollop of mash at the end as I need to get the very last drops.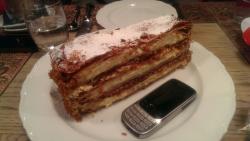 What perhaps is not needed is a dessert the size of the one we're offered. I don't usually use camphone pics on a review, but in this case only a photo can give you the picture. Mahoosive eh?
We share a slice and luckily it's far less heavy than it looks; light, cremey-anglaisey and well constructed and we actually finished it and then high-fived.
I think Rextail is a winner for Mr Novikov, who has hit the button this time. It's out of my personal price range for repeat dining but the food is much better than expected; enjoyable and straightforward and the room works.
We went at lunchtime, so maybe the place rolls differently of an evening style wise, but the food won't change.If you've got a sponsor to pay for you, or a client that you're being paid to woo, definitely go there. Just make sure everyone likes tomatoes.