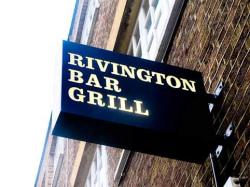 You can take your pick of Rivington Grills. There's the one in semi suburban Greenwich where the punters are more married with babies than single and sexy, or alternatively there's the one in Dubai, which may be a bit of an expensive cab ride home. Or you can simply rock up to the mothership Rivington Grill in, of course, Rivington Street.
This end of Shoreditch, close to Old Street, is more MOR than punk. New money has moved in and our lunchtime crowd consisted of the sort of people who run new media agencies, rather than the people who man the Macs for them. There were some girls and boys who could have been models, or who wanted to be mistaken for models, and a table of bankers who laughed a lot and loudly too. Presumably they were thinking of their bonuses.
The food at Rivington Grill is brother by another mother to that served at Canteen, which is to say British and proud of it. Union Jacks don't wave from the walls, but the menu stresses provenance from these sceptered isles and offers choices that Enid Blyton would approve of – from breakfast all the way to dinner and 'supper' too.
Black face Haggis on toast topped with a duck egg and with brown sauce (proudly said to be HP) turned out to be as comforting as can be. It was a spicy little toast-topper that became even better when the egg was broken into it. The brown sauce was dobbed about on he plate in the way that Michelin chefs like to squirt their jus, but whether in ironic tribute or done seriously was hard to say. Some purists might have insisted on actually having a bottle of the brown stuff on the table, instead of on the plate, as it tends to divide opinion. I can't stand the stuff personally.
Others with me had grilled sardines with shallots, chilli and garlic, which sounded nice and indeed those eating them said they were, but sardines are a bit too strongly fishy for me. A cartoon skeleton left on each plate proved I was in the minority. The lunchtime lure of a menu such as Rivington's is that there really is something for everyone, even beans on toast if that takes your fancy, and the unpretentiousness of it all makes for relaxed refuelling.
Main courses offered Mutton Masala, and you don't often see mutton on a menu even when dressed as lamb, as well as veggie sausages and of course fish and chips too, albeit one as one of the most expensive mains at £15 a pop.
I went for Anglesey sea bass with brown shrimp and caper butter but soon wished I hadn't. Expecting, for some reason a fillet, I was as browned off as the shrimps to end up with a whole fish not much bigger than a minnow. This meant bones, lots of bones, lots and lots of bones and the process of getting them out of my mouth and onto the plate soon began to outweigh the pleasures of the flesh. The taste was good, the skin a bit limp, but the sweet shrimps were juicy so I mostly ate those instead, as well as a bowl of very decent chips.
Slow roasted Suffolk pork belly with colcannon and scrumpy served next to me looked pretty good, although the belly was probably too a large portion and the crackling didn't seem to be crackly enough. Not much to dislike about belly though and I love colcannon, that Gaelic mix of mash and fried cabbage that's ideally suited to a dish like pork belly.
Time was against us so desserts were not taken, but again the list promised good Britgrub such as Steamed jam duff with custard (oh yes please) and Bramley apple and cinnamon crumble with custard (because you can never have enough custard. I'd drink it from a cup given half a chance).
Rivington Grill isn't fine dining of course but it's not downmarket either. Expensive enough to keep out the lower orders, it's easily affordable in the areas they operate in and offers something more than just gourmet burgers and quality steak, both now ubiquitous young persons' food in London. They even do takeaways which are apparently popular.
Some dishes verge on the self-mocking and ironic, even by Shoreditch's high standards, but the cooking is capable in a way that that is all about the 'operation' rather than just the chef and that's no bad thing in our current celeb chef obsessed culture.