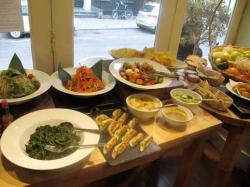 If your new year's resolution was something along the lines of making sure to eat your five a day, then this could be just what you've been looking for… if you work near Soho that is.
Zilli Green is a new vegetarian restaurant in the centre of London and is the third installment from renowned Italian chef Aldo Zilli in the area. Since appearing on Celebrity Fit Club last year, Aldo's been on a serious mission to get fit and healthy and his latest restaurant and book are a testament to that.
Occupying the location, which was formerly known as Signor Zilli, owned by the same man, the restaurant can now claim to be the oldest and longest-standing Italian eatery in the area. Going through its share of reinventions since the original opened back in 1959, the latest incarnation could well be the most radical of all.
For his head chef, Aldo Zilli has chosen Enzo di Marino and together the pair have created a menu mainly inspired by traditional Italian food but there are also influences and fusions from all over the world.
Not your typical sit-down restaurant, Zilli Green differentiates itself from the competition by offering a buffet option as well as the standard menu. This has quickly established itself as the popular choice during lunch hours, but do not arrive expecting the all-you-can-eat Pizza Hut style of buffet English eaters have become so accustomed too. A far more civilised affair, you are only allowed a mere one plate and one visit to the various food stations, a practice that somewhat defeats the purpose of a buffet in the first place.
Very busy already, considering the type of cuisine and short timespan it has been open, Zilli's reputation in the area is clearly a good one, and combined with the Brits clear love of vegetables and buffets, and perhaps trendy new restaurants, it seems like Zilli Green has struck a cord with the locals.
Continuing along similar lines to the style of food and the name, both the interior and exterior have been painted from top to toe in green. Adding an extra dimension of relaxation on top of the already chilled-out vibe you generally find in vegetarian eateries, Zilli Green is a welcome respite from the more frantic pace usually witnessed London restaurants and cafes during lunch hours.
Separated into two distinct sections, the larger buffet table located next to the entrance focuses on starters and salads while the smaller table is solely for mains. Ranging from fried carrot dumplings, tomato and mozzarella salad to very refreshing Asian style noodles the majority of starters are extremely fresh, tasty well thought-out and there is a plentiful selection too; unfortunately the mains are a very different story.
Not the ideal food for any sort of buffet, pasta has a habit of drying out and stick together when it is left out for too long and this is exactly what had happened at Zilli's, with every individual piece of tortellini clinging to the next for dear life. The other dish I had a big problem with was the Thai style curry, while it actually tasted pretty good, on a plate, or even worse in a takeaway box, it was far too fragrant and overpowering, completely destroying any other flavour it came into contact with.
Prices for the buffet are £5 for a small plate and £9 for a large, with the takeaway box costing £8, all of which are a bit too expensive for what you get. Realistically limited to either starters or mains, the two clearly do not mix and the balance of foods needs to be seriously addressed.
Outside the buffet, the standard menu is full of plenty of other interesting options. Highlights from the starters include Jerusalem Artichoke Tart with Goats Cheese, Fig & Grape Chutney; Beetroot Lasagna with Dandelion & Rocket Salad; and a Red Lentil & Barley Soup.
And from the pasta dishes Pumpkin ravioli with Butter, Sage and Nutmeg Sauce; Artichoke and Smoked Mozzarella Risotto with Toasted Sunflower Seeds; and Black truffle lasagna all sound very appealing. Other selected mains include, Purple Sprouting Broccoli & Oyster Mushroom Tempura as well as a Daily Roast; Marinated Seared Tofu with Asian Salad and Miso Soup and Lentil Cake with Steamed Baby Vegetables, Fried Fennel and Beetroot Oil.
Only time will tell if Zilli Green is as successful as its siblings, but one thing is certain it won't be turning any of its rivals green with envy just yet.