77 Dean Street, Soho, London W1D!3SH (beneath The Red Fort)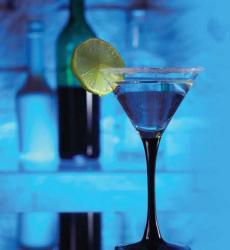 Zenna Bar is London's first Indian cocktail bar, found underneath The Red Fort, a pretty good Indian restaurant. Prior to this launch the venue hadn't reached anywhere near full potential, averaging small weekly numbers of guests and takings. Now the bar has an atmosphere and is starting to create an identity as new life pulses through its veins.
I'm not quite sure I'm cut out for Soho these days. That's not a resignation from being a 'creative', I'm just not sure I've got it in me to party like a tripping baby gummy bear anymore.
If like me you have lightning fast ninja skills that enable you to weave in and out of the mixture of luvvies, failed art students and media slaves then you can arrive on Dean Street in no time. Or you may be like my new side-kick, L-Mo, and decide to wear sky-scraper high-heels to the preceding Jasper Garvida fashion show, then demand a taxi for the forthcoming two minute journey.
Anyway, 'we" chose the taxi option and experienced a sort of urban safari on acid, (although actual monkeys would have tried to open the car doors less and would have more shame about peeing in public). Still, like Dorothy and Toto, (I'm sure Toto also had to follow a ridiculous shoe-wearer), we plough on through the strange bright characters until we arrive at our Emerald City, Zenna Bar.
I'd met the manager, DT, a while back whilst waiting for a meeting. We chatted briefly and soon discovered a mutual desire to open a bar. I was always heavily on the food side, whilst DT is a bit of a connoisseur of drinks. So, as a friendly promise I agreed to pay him a visit should he ever realise his dream. Looking back on it, I'm glad I did.
L-Mo and I look around the place with our critical eyes, she being a luxury interior decorator and I being a whingring git. It's rather simple, apart from the bar that resembles the Birmingham Bullring shopping centre. There's not an awful lot that you could call 'wrong' in terms of decoration, but I get the feeling that DT will be itching to cast his ideas over the décor in greater detail and make it more, 'unique'.
Speak of the Devil, DT promptly approaches to welcome us and explain the cocktails. Amongst the appealing array is the world's hottest cocktail, but I bottled out. L-Mo opts for a Coriander and Lychee Daiquiri, a rather curious cocktail that smells nothing like it tastes. A large stalk of coriander rests across the Martini glass, wafting authentic Indian aromas up the nostrils. The smell is then cut through by the very sweet boozy-lychee taste.
My choice is The House Nectar and is Zenna's secret recipe. DT swears it's practically impossible for a person not to like it, and try as I might I can't complain, it's really good. L-Mo decides that a swap is in order, which gives me flashbacks to playground politics when a friend decides they want your toy because it's shinier than theirs. I don't mind, both are really good, and the House Nectar clearly made her beam a Cheshire cat grin – though that could have been her joy at getting her own way.
All this drinking is making me hungry so we grab a menu. It all looks good, therefore when in doubt order a platter. There are two chicken dishes, Murgh Tikka and Karara murgh. The former is moist, mild and mouth-watering; whilst the karara has a little more spice. For proper spice fans the Seekh Kebab has a firmer, slow burning after-kick.
I have a quick dabble with the vegetarian options of Hara Kebab and Dal Vada, both tasty and creamier than the meat options. Then on to the Fish Amritsari that's pleasant if a little tame. Finally I'm ready for my favourite, Pocha Hera Jhinga. I like prawn dishes from an Indian restaurant and Zenna is able to boast an absolute winner. Each giant prawn has a crisp outer coating and the flesh is bursting with flavour after each crunchy and juicy bite. I'm too involved to notice what L-Mo thinks, but I'm pretty sure she's happy, although she's been dragged up to dance by some random Soho gremlins.
The place is packed, the music is actually pretty good, the drinks are designed and delivered perfectly and the food is more than up to scratch. DT's done well so far, I'll definitely be stopping by more often to watch Zenna grow, and if that means more time being spent in Soho – well I guess it's worth enduring the gummy bears for this little piece of magic.