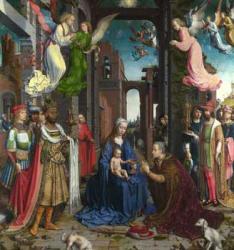 Oliver Peyton is on fine form at the press dinner celebrating the National Gallery exhibition of works by Northern Renaissance artist Jan Gossaert.
Almost all of what he says is unrepeatable but excellent fun as he makes light of everyone and everything, including of course himself, as all good humorists do. Once the party king, the Irishman now owns and runs restaurants all over the place, one of which is the National Café we're sitting in.
We're here, drinking dangerously addictive champagne and beer mixes, because the National Cafe has a new menu of food from Flanders to celebrate the Flemish artist Gossaert. It's a menu that is a million miles away from mussels, if not Brussels. It's been put together by the National Cafe's head chef Simon Duff and Belgian chef Matthieu Beudaert who owns and runs Restaurant Table d'Amis, in Kortrijk in West Flanders. An ex hobby chef, Matthieu is now a rising star and the food he serves shows why.
A sample starter of potato and buttermilk cream with poached egg and cured Flemish ham was excellent and had us scraping the verrine it came in, while the veal sweetbread croquette was so good I had a little friendly scuffle with my neighbour for the spare one. A glass of Deus beer, again a strong one, washed it down nicely while encouraging conversation. Skate with beurre noisette is very much a classic dish, but 'textures of cauliflower/ made it more interesting than usual.
Best was the braised pork belly 'Hutsepot' (Hotchpotch, in English) a dish that became representative of the occupation and its fightback. Then it would have been just root vegetables, here the pork had been slow cooked but not crisped and sat in a very good broth that deserved the good spooning it got. The Straffe Hendrick beer was the match, another head lightening 6% alcohol beer.
A dessert of chocolate moelleux and brown beer ice cream was again excellent and the cheeses that followed were good enough to be on a starred table. It's easy to think Flanders is the poor relation gastronomically to French Belgium but in fact the Flemish side is loaded with gastronomic delights as well as a resurgence of small micro breweries making beers that can partner perfectly with the new wave chefs' food.
Priced at £23.50 for two courses or £27 for three courses and available until 30 May this is a real discovery menu that is quite unique in London.