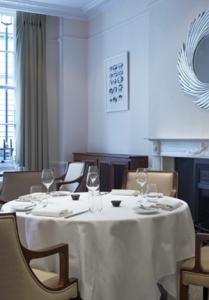 Professional Masterchef must have been hard work for Michel Roux Jr. First he had to pretend he was actually interested in a greengrocer's opinions, although he and shouty rarely appeared on screen at the same time so possibly he never actually heard them.
Then on top of that he had to do a whole lot of gurning response shots, from horror to orgasm, for the director to insert seemingly randomly into the cookery parts. So we had Michel recoiling in horror as someone merely put a pan of water on to boil, but smiling sweetly when they set fire to the main course
Michel Roux is not an idiot but the programme makers did their best to give that impression. Luckily there is Michel Roux Parliament Square to remind us that he is a very good judge of cooking. He doesn't cook there himself but his appointment of Toby Stuart – who was recently Senior Sous Chef at 1* Galvin at Windows at the London Hilton hotel – shows he really does know a good chef when he sees one.
The room, as many have already rather sniffily remarked, is a bit odd. It's reminiscent of attempts to recreate a Georgian sitting room in a Barrett's home. Of course the fireplaces here are the real thing, not made of plastic, and yet the impression lingers. It's not unpleasant, far from it, but it does strike a slightly wrong note. Thankfully the food is good enough to distract you from the décor.
It is in fact very good food indeed and reasonably cheap as these things go. With many of the lunchtime diners working in nearby Westminster with expense accounts that wink at lunch bills, they could probably charge a lot more if they wanted. A set lunch for £29.50 is pretty good value for this kind of stovemanship.
Of course in the interest of research we went a la carte to get the real measure of Toby and Cassoulet of organic cod cheeks, chorizo, black beans, lemon and parsley was a good place to start. L thought cod cheeks would be tiny things, under estimating just how big a cod can get. Two large balls of tender sweet flesh came with just enough chorizo to add sparkle but not so much as to swamp. The tiny black beans were visually interesting and their mealiness absorbed some of the tasty broth with its notes of lemon and parsley very finely balanced. It was a robust dish trimmed to be fast on its feet and it worked perfectly.
Traditional came in the shape of diver caught Scottish scallops, hazelnuts, Heritage apple, rosemary, roast cepes and a beurre noisette emulsion. The nuts and cepes made it as autumnal as leaves on the line levraging a trio of textures as well as the earthy woodland notes cepes always deliver. Apple acidity floated the well-cooked scallops along and the classic beurre noisette finished the dish with a hint of calorific decadence.
Game is on a lot of menus right now, and rightly so if we're serious about seasonal, but not a lot of chefs are getting to grips with hare. Toby tells me later that he prepares his Loin of hare, Alsace bacon, lasagne, celeriac, pear, wet walnuts from furry scratch and it's a deeply delicious dish. The lightly cooked hare has a depth of flavour that exceeds rabbit, a flavour the bacon intensifies and the celeriac, still a largely unloved vegetable in England, is a perfect partner. Wet walnuts, which is to say the freshest walnuts you can get right now and only for a short while, are a long way from Xmas bitter bits.
I got game too – Squab pigeon with Ras el Hanout, Muscade de Provence, Medjool date was a sum of pigeon parts that assembled into something greater. The main meat was perfectly judged, red but not raw and the offal had been merged into a succulent single piece. Ras el Hanout is a singular blend of North African spice, no two families make it the same, but here the classic alien notes of cinnamon, cumin and coriander were all there and added a muskiness to the meat. It was a very good dish indeed.
Desserts rarely get my pecker up, I don't have a sweet tooth, but I do like a soufflé if I see one. Here Black fig soufflé, amaretti, toasted almond ice cream was absolutely stunning, best dessert of the year hands down. Perfectly risen, beautifully coloured and, when the ice cream was plopped into the top at table, a luscious blend of hot and cold, it was good down to the last spoon scrape.
L's Lemon tart, yoghurt sorbet, English raspberries was, she reported, very nice indeed but I was too busy enthusing over the soufflé to pay much attention. Talking of attention the staff at Roux are just right, not over zealous in filling your glass but not disappearing when wanted either. Good waiters have good antennae.
And good waiters work in good restaurants such as Roux at Parliament Square. It's perfect for lunch but whether, given its location, it also works in the evening is hard to say. The quality of cooking is first rate and standards are all high. Roux has his rep in safe hands with Toby Stuart. Whether it will survive having been associated with the shouty grocer is harder to call.