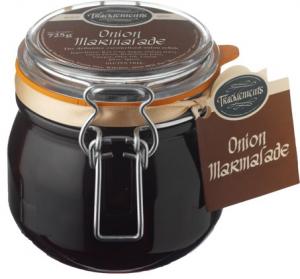 When winter comes and the nights start to draw in there's nothing quite like hearty comfort food. Sausages are a guaranteed winter time pleaser and Tracklements Onion Marmalade is the perfect accompaniment.
There are lots of different ways to use Tracklements Onion Marmalade in home cooked dishes, including a delicious one-pot wonder dish. Just cook 8 sausages in the oven until they're almost done, drain off the excess fat and spoon 4 tbsps of Onion Marmalade over the sausages. Cook for 5 minutes and serve alongside mashed potato. You can also make an easy gravy by stirring a little red wine into the pan juices and heating it all up for a few minutes.
Sausages aren't the only thing that tastes scrumptious with Tracklements Onion Marmalade, it complements goats cheese very well. I used the Onion Marmalade to spread over the base of a tart, topped it with a thick round slice of goats cheese and baked it in the oven. Served with a fresh rocket salad it was a hassle free weekday meal.
The other use I found for my Tracklements Onion Marmalade was pimping up my sandwiches. I added a small amount to various sandwiches and found that it gave my boring old sarnies a real lift.
Tracklements are the first company to introduce this incredibly tasty condiment to the UK and they produce their award winning recipes by hand in small batches. Tracklements have been creating award winning relishes, mustards, chutneys, sauces and jellies for 40 years and their fundamental principle of handmade excellence has remained the same.
Tracklements Onion Marmalade costs £3.70 for a 365g jar and is available from speciality delicatessens, butchers and farm shops.