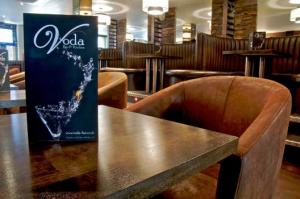 Where better than the North for a tired, weary London dweller to travel when in need of some rest and a decent bite to eat? As our train zoomed us up to Leeds on the hunt for two restaurants owned by West Yorkshireman Matthew Jones, I got nostalgic for my days as a youth and a student, spending them as I did in this part of the world. The crisp northern weather and pleasant memories of the past would be the backdrop to a lovely weekend in Yorkshire, and it began with checking in at the Cosmopolitan Hotel, a short walk from Leeds railway station.
The Cosmopolitan is over 200 years old and one of the oldest hotels in Leeds. Having recently undergone a £1.5 million pound refurbishment, it is bright, modern and comfortable inside but retains the character bestowed upon it by age. Every room has its own individual quirks but each one still has all the usual facilities you would expect of a city centre hotel, incuding en suite bathroom, flatscreen TV and, luckily for me given my height, a luxurious king size bed! The chocolates on arrival are a nice touch and really make you feel welcome.
The hotel is perfectly placed for the sort of jaunts I needed to make, as Voda, promoted as a bar & grill, is a stone's throw from Huddersfield railway station, while Bar 166 is a bistro in Horsforth, a town north west of Leeds easily reachable by train.
First up was Voda, whose bar and restaurant isn't particularly separate so the hubbub of drinkers and music from the bar forms the backdrop for a casual dining experience. The place is smartly finished, with dark wood, maroon paint, leather seating and blue uplighting inside. My dining partner P and I grabbed a quick drink at the bar while we waited for our table and were ushered through to the main eating area just as we emptied our glasses.
We then settled into our plush leather booth and our next task was to order some food. There is a good range to the menu, with something for all tastes; I went for ham hock terrine and P ordered king prawns and these promptly arrived a little while after. While the ham hock didn't blow either of us away, the prawns were very nicely cooked and certainly got us looking forward to our main courses. Our anticipation wasn't in vain, as my lamb shank fell off the bone beautifully and the accompanying mustard mash soaked up some very rich gravy. P's tuna steak was a generously sized hunk of fish and was delicious despite the slightly over-exuberant use of lemon and capers. An assiette of chocolate cheesecake, apple pie and chocolate brownie was an enjoyable end to the evening and a great dish to share.
After a glorious night's sleep in that king size bed back at the Cosmopolitan and a decent breakfast to boot, our very next night was spent at Bar 166, a slightly more formal version of Voda, with a larger, separate restaurant area and a slightly more ambitious menu. The owners have left a similar mark on the place in terms of the décor but you're still able to deduce that Bar 166 is definitely more Bistro than Grill when compared to Voda.
A starter of seared pigeon breast was the extra ambition of the menu encapsulated, and illustrated perfectly that this next level of cooking is one that is harder to conquer. The meat was slightly under-seasoned and the accompaniments of bacon and black pudding weren't quite perfect but the desire to have dishes like this on the menu is admirable. A main course of rainbow trout with sundried tomatoes and potatoes was beautifully cooked but the flavours weren't quite as powerful as P had hoped.
By now an impression of these two places is hopefully forming in your mind; they do the classic English dishes, like lamb shank and the five spiced pork belly I had at Bar 166, very well but there is the occasional complicated dish that doesn't quite match the generally good standard. Apart from this comment, they are enjoyable places to eat and, while it's not Michelin star level, the food will send you home with a full tummy and a smile on your face. The service is particularly worth a mention, as our waitress was even happy to change a bottle of wine because we didn't like it.
After two big, tasty meals, a sleep of exorbitant length and some proper northern weather, I was left to remember the sort of excellent comfort food that fits in perfectly with my images of the north and the memories of my youth. Despite what some Londoners may think of the world above the Watford Gap, my weekend away from the capital was the proof I didn't need that it really isn't so grim up north.