Royal China, 24-26 Baker Street, London W1 www2.royalchinagroup.biz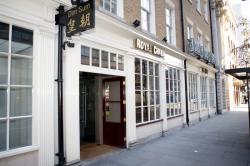 Just a short walk up Baker Street from Portman Square, Royal China is little more than a stone's throw from Selfridges in Oxford Street. Although double fronted, Royal China's footprint on Baker Street is pretty deceptive. It's not until you go into the restaurant, past the reception and bar area, that you get a true feel for the vastness of the place, it's huge. But this doesn't detract from its comfortable friendly atmosphere. The restaurant has lacquered motifs to the walls, the seating is plush, all in all it's a very pleasant place to sit and enjoy a meal.
We were aware that until the end of November Royal China had a set menu with which customers could have paired wines, it looked so inviting we simply had to go for it. Soon after choosing the menu and quenching out thirst on some sparkling water, our first course arrived. This was almost a meal in itself, consisting of deep fried crab claw, crispy prawn roll, golden scallop, seafood rill (sic) and crispy seaweed. It looked amazing. The crab claw, a mix of crab and cuttlefish, its nicely crisp breaded crust containing the lovely flavoured meat was very good. The crispy prawn roll was exactly that, a prawn wrapped in filo pastry and deep fried, it was certainly crispy and the prawn had good flavour. The seafood rill was interesting, a breadcrumb coated tube filled with chopped prawn, scallop, pineapple celery and carrot in a sauce, the flavours went surprisingly well together. The golden scallop was cooked beautifully, in a batter, having had a slice of cucumber inserted into the scallop before being battered. And finally, the seaweed was very good, among the best I have tasted. This starter was paired with a South African Sauvignon Blanc which had a nice citrusy fruitiness and good acidity that balanced the fried food really well.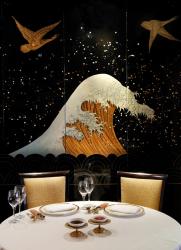 Our next course was braised lobster with broth. The broth was more a thick coating sauce with some sweetness; the lobster was nicely juicy, it had great flavour and texture and was nicely balanced by some ginger and spring onion in the sauce. This dish was served with a heady Australian Chardonnay, which had melon coming through on the palate and was nicely dry, the wine leaving you with some tingle on the edge of the tongue. It was well matched with the lobster, the flavours of the meat and sauce working well with this bolder white wine.
Our next course, crispy duck was again well executed, good plum sauce and well cooked duck with cucumber and spring onion, accompanied by good pancakes. This was paired with a Chilean Merlot that had a big forest fruit smell to it and rich plum and blackcurrant flavours, the combination of the food and the wine was spot on.
We moved on to the stir-fried Dover sole in XO sauce which was delicate, but delightful and Szechuan sauce that had some heat. The fish was cooked just right and was complemented well by its two different sauces. It was paired with and Italian Bianco which had acidic hard green fruit flavours, particularly apple, with some tingle and spiciness in its length.
Our final course was pan fried lamb chop with 'honest black bean sauce'. Tender chops sitting on top of their sauce and fried onions, these were served with some good al dente mixed Chinese vegetables and some diced seafood egg fried rice which was generously full of prawn and scallop. With this we had a Rioja which had deep red fruits on the palate some vanilla coming through, a little acidity and medium tannins in its finish, a lovely wine to go with the perfectly cooked lamb.
Service at Royal China was excellent, they have great teamwork. We enjoyed our meal there immensely. Royal China is part of a chain, but we understand that each has its own identity. This is the sole branch to have introduced the pairing menu and we were told that they have plans for other special events in the coming months. The pairing menu is we thought extremely good value, priced at £30 without wines and £40 with the accompanying flight; I would challenge anyone to find somewhere serving such good quality beautifully executed food with wines at these prices. I would urge any lover of Chinese food to go there.