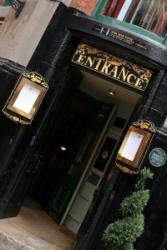 As a student in Manchester I often passed Sam's Chop House and thought how agreeable it would be to dine there one evening, if it were possible for students to do such things in Manchester without being labelled a nonce. Against the tide of increasingly large glasses and the compulsive purchasing of second hand vinyl there was something about Sam's that offered refuge in a sea of retro, a little islet of snug Victoriana tucked off Cross Street.
The lure of Sam's – and indeed Sam's was jammed on a recent Friday lunchtime – is that, in a city that thrums with the aching-to-be-cool of 50,000 students and the artlessly artless venues that cater for them, Sam's is simply what it is.
If Sam's was the kind of joint that had 'features', then the tiny doorway would lead to endless quotes from trippy cult literature, while the life-size statue of Lowry drinking at the bar might, in some unidentifiable way, be ironic. But Sam's just happens to have a small doorway and a life-size statue of Lowry.
Despite its comfy olde-worlde-ness Sam's didn't have an easy job that day. En route to Istanbul and accompanied by the novelist Chris Killen – a known celebrant of bland foods who subsists on coffee, fags and the odd jam tart; a man whose brush with a chorizo sausage prompted the wide-eyed comment that it 'tasted like fireworks," – I was feeling a little apprehensive. Truth be told, traveling does little to quicken my appetite: I could miss my flight or lose my passport, my carefully personalised luggage could end up rudely strewn across a Bangkok flea market while I was forced to sport a burka and Ali Baba shoes.
There's something about Sam's though, that's immediately reassuring. Nobody has thought to disguise it as a gallery-come-boudoir and there are no students loitering at an open-mike like opportunistic flashers. The Express Lunch Menu turns out to be a short and sweet celebration of classic British food, the likes of 'Home-made Black Pudding with bacon & barley served with celeriac coleslaw, English mustard mayonnaise & pickled apple purée;" 'Grilled bacon chop served with a free-range fried egg, Chop House chips & salad;" 'A set Earl Grey tea custard served with Sam's home-made ginger snap biscuit."
My steamed fillet of salmon was as soft and soothing a dish as my fluctuating innards could have wished for: elegantly cooked fish, crushed new potatoes and wilted spinach all amalgamated with a little froth of sweet, buttery hollandaise. Mr Killen's bacon chop came piggybacked by a fried egg with a glass of rustling chips – a crunchy, chewy plateful of toothsome textures and salty-sweet flavours, he gave it an emphatic 10/10, which was further contextualised by giving MacDonald's minus 2.
It's easy to see why Sam's must be one of the busiest venues in Manchester. This is the kind of delicious, unpretentious food that people are always hungry for – rich flavours executed with an impressively light touch. Mr Killen, moved to extravagant declarations by his serving of Eton Mess, instructed me to write up another 10/10 while he mused on the possibility that certain restaurants would benefit from a permanent writer-in-residence.
With coffee and wine the bill was extraordinarily modest while theservice was charming throughout. As Sam's works its magic you might find yourself using words like 'charming' and 'splendid' rather frequently, or perhaps this is my inner nonce breaking free at last. Whatever the case, I'd recommend polishing your pocket-watch and getting down to Sam's – you're in safe hands.