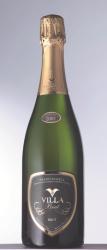 The Villa Franciacorta winery in Monticelli Brusati is just a few kilometres from Bresca, which I am told is an area that for centuries has been renowned for the production of high quality wines. Owned by the Bianchi family since 1960, Villa Franciacorta has 37 of its 100 hectare estate laid out to vineyards in an area where the soil is just right for growing the Chardonnay, Pinot Blanc and Pinot noir grapes. I also understand that Villa Franciacorta use only organic and natural products in the vineyards. Villa Franciacorta make both still and sparkling wines and I was recently asked along to a tasting of their sparkling wines both before and during dinner at Degò, the Italian bar and restaurant near Oxford Circus that has just been awarded two AA rosettes. Degò is the sole importer of Villa Franciacorta wines in this country, so the wines I sampled during the evening are available exclusively at the restaurant.
We started the evening by tasting four of the Villa Franciacorta sparkling wines in the bar; the Saten was first, a bright clean tangy acidic wine with a soft bubble foaming in the mouth, delivering big flavour and leaving you with great length on the palate after you swallow. The Brut had citrus flavours, lemon came through well for me, with soft to medium bubbles filling the mouth, this was a very dry wine that left you with a lovely tanginess in its length. The rosé had a medium soft bubble its creamy texture delivering a hint of under ripe strawberry and a nice tanginess on the edge of the tongue, this was a more delicate wine than the first two, yet still had good length to it. The Diamant was the last we tasted before we went to dinner and this had a great sharp acidity richly citrusy, with a hint of pepper and some minerality, it was a dry, fresh light wine with nice length to it.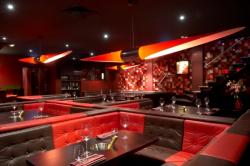 So having tasted these four lovely wines we descended the stairs to the restaurant area. Starters of homemade ravioli filled with tuna tartare and pistachios arrived, the warm ravioli wrapped loosely around the cold tuna and pistachio tartare, then drizzled with its own reduction, it was excellent, the flavours and textures coming together perfectly. The dish was paired with Villa Franciacorta Cuvette Brut 2005 which had a Chardonnay headiness and big yellow fruits on the palate in which apricot came through well. This was a very fruity sparkling wine that had good foamy bubbles and nice length. It worked really well with the tuna. Mains was roast rib of veal stuffed with walnuts and mushroom served with diced roast potatoes and broccoli, the veal was very tender and the stuffing supported it really well. With this dish we had the Franciacorta Brut Selezione 2004, a wine that is produced only in 'outstanding vintages' and this rich full flavoured wine had good soft bubbles, big yellow fruits on the palate and some great tang that continued on in its length. It was a great foil to the lovely veal.
Our final course was a selection of cheeses served with the only still wine of the evening, the Franciacorta Merlot Sebino Quercus 2007 which had intense forest fruits in which blackcurrant shone through; it had some acidity, warmth, a medium to full body and great length on the palate. Its medium tannins were softened very well by the cheese. These were some excellent wines supporting the great food that I had come to expect from Degò following my review. It was a very good evening indeed.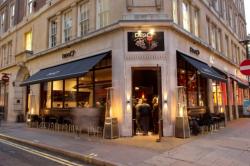 Degò has recently launched its summer truffle tasting menu of four courses, each served with shavings of summer truffle. The dishes are; calves liver with red onion and sweetcorn, fettuccini with morel mushroom, filleted rabbit with veal and prune stuffing, served with snow peas and a tomato gratin and finished off with a homemade ice cream, also served with the truffle. All this for £78, the summer truffle tasting menu will be available to customers until the end of July. If you're a lover of truffle you might want to get yourself along there.
For more information about the wines mentioned here visit the Villa Franciacorta site, you may also wish to read my review of Degò on site.
Degò, 4 Great Portland Street, London W1W 8QJ www.degowinebar.co.uk