What do you get when you combine the big, contrasting flavours of Spain and eastern Asia in a new tapas fusion venture? Kelly Smith and her Madrileña sidekick, Marta de Julían, find out.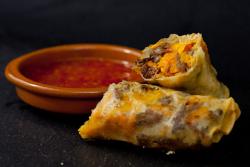 Señor Buddha is the outcome of chef Lee Shipley's ambition to unite his favourite cuisines, not a gimmicky product of market research. But ambitious it certainly is.
Within minutes of sitting down, it's clear that this little restaurant – with its handful of covers, tiny open kitchen and unpretentious interiors – is borne out of a very personal culinary pilgrimage. Picking up inspiration while travelling through Spain, Thailand, Cambodia and Vietnam, Lee says he was bowled over by the quality of ingredients widely available, and how relatively poor people made simple food taste great.
"I loved the whole ethos of food and family being the most important things in life – and when you think that way about your food, you'll put a lot more passion and enjoyment into it."
Our mild suspicion of fusion soon dissipates as we get stuck in from the stainless steel bar overlooking Lee and his Mexican co-chef Alma at work. Their enthusiastic commentary is hard to keep note of as the plates, matched with wines from Spain, Portugal and France, come thick and fast.
To get us started, pimentos de padron – the best you can get, we are assured. The Asian twist here? There is none. The food at Señor Buddha isn't fusion for the sake of it. The peppers are simply grilled with salt, as they are in Spain; no need for any embellishment.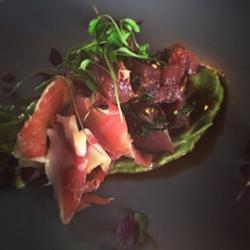 The Asian tuna tartare with Iberian ham is a different story. This is not a tapa; it's a manifesto. The dish epitomises what Señor Buddha is about: experimentation but also respect for the original flavours and authenticity of the produce – the principle ones here being Pacific bluefin tuna and jamón de Pata Negra. The ham's magical, fruity depth is a clever match for the gently marinated raw fish, its fresh citrus tang cutting through the creamy fat.
The accompaniments manage to enhance the whole without cancelling out any parts. Avocado is never superfluous and the merciful handmade wasabi is there to add a spark, not to obliterate the bacteria in your mouth.
Indeed, these are big flavours finely balanced. Growing up in Spain, my co-writer says she has always preferred to enjoy the natural taste of the meat, fish and vegetables on offer, rather than hide them in layers of spice. Which makes Señor Buddha's careful combinations all the more surprising. 
Morcilla de Burgos – a moist, Spanish black pudding made with rice, originally from Castilla Leon – is usually served on its own as a pan-fried tapa. Here it finds the king scallop a perfect sea counterpart for its rustic earthiness, with coconut and cauliflower pureé, and hits of chilli and coriander, just adding to the balance.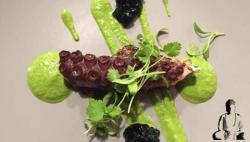 Then along comes what the menu simply entitles'octopus tentacle'. We wouldn't normally go for a dish that sounds like a 50s horror film – but this is an astutely chosen sea monster. It's from the waters of Galicia where, I'm told, octopus have bigger tentacles and smaller heads. After being cooked slowly in red wine and Thai spices, it's delicately piquant and butter-soft – but still tastes as octopus straight from the sea should. And the drops of squid-ink caviar and coriander aioli add bite without drowning out the star of the dish.
On to the full-on meat dishes. First up is the mountain mutton stew, an interpretation of a peasant dish Lee ate in Mallorca. The meat is dry-rubbed with a spice mix including cardamom then cooked on the bone to a Moorish method using a tiny volume of water for the first hour – so it's steamed to submission by its own juices – before being basted for 23 hours in coconut milk. The result is nothing short of incredible. The mutton is impossibly tender, made even more so by its rich, fragrant pool of spice-infused meat juices perfect for dipping your bread into.
The sherry pig-cheek croquettes are also revelation. Traditionally croquetas are made from leftovers: cocido, jamón, chicken, or fish; anything you can throw into a thick bechamel. By this premise, it's not uncommon to end up with deep-fried bricks of floury paste. Luckily, and we don't know how, Lee and Alma have created a sherry-infused pig cheek in the shape of a croquette. The warmth and sweetness of the sherry and spices work wonderfully. Our verdict: if you like croquettes, you will like them; if you don't like croquettes, you will like them.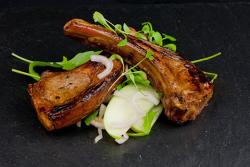 Next are the aromatic soy lamb cutlets, which only need a moment on the grill after languishing for six hours in an east Asian marinade. They melt in our mouths like savoury lollypops, with the apple, radish and rocket lightly coated in olive oil and lemon adding a bit of sherbety pep on the side.
Waistbands straining, we even manage to squeeze in the oxtail spring rolls. Lee's take on the classic rabo del toro packs red-wine drenched slow-cooked oxtail with sesame oil confit carrots. Another winner.  
Suffice to say, there's no room for pudding. Thankfully, there's nothing too substantial here: locally made alcoholic ice-creams and sorbets. But our eyes rest on the interesting collection of spirits on the wall in front of us. As with the tapas dishes, each bottle brings something different to the table.
We try Tito's Texan vodka: a super-refined, super-smooth small-batch tipple that's surprisingly tasty. Then St George Terroir: a remarkable pine-scented Californian gin made with Douglas fir, coastal sage and Californian bay laurel botanicals. The rums look tempting but we quit while we're ahead, or rather while we can still remember how the food tasted.
Ah yes, the food… It's easy to find fusion tapas fussy and overdone. At Señor Buddha, nothing is forced. Each of the ingredients used – not always the most expensive, but the most flavoursome – has a very good reason to be on the plate. And the fusion works well, with the Asian aromatics offering a fresh note or a little nip of heat to lift the rich, earthy Spanish palate.
It's precision cooking but certainly not poncey. There's a sense of honesty about these modestly priced tapa-sized experiments. Incidentally, some of the best experiments we've ever tasted.