Rivea London, Bulgari Hotel & Residences,171 Knightsbridge, London SW7 1DW rivealondon.com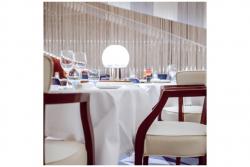 Ah Knightsbridge, in the land of the famously and fabulously wealthy, being told the most expensive cigar on sale is £1100 comes as no real surprise. I wander out of the Bulgari hotel cigar shop, having had a very pleasant and informative chat, and spark up a reflective Mayfair Light in the street.
Nicotine levels restored it's back in through the glamorous bar and downstairs into the luxurious embrace of the Rivea restaurant. I can see the Food Editor of a well-known Sunday colour supplement eating in a corner, he doesn't know me of course so we are both spared any embarrassment. I imagine he is here, as am I, to sample the chestnut menu that has just come into season. The special lure is that it has been created by Chef Alexandre Nicolas in consultation with Alain Ducasse.
J and I sit and admire the decor; it's not going to appeal to everyone of course, the walls aren't bare brick and there are no orange filament light bulbs, but it is pretty restrained and tasteful for this part of town. The wait staff aren't stuffy either, even though J and I are clearly not minted.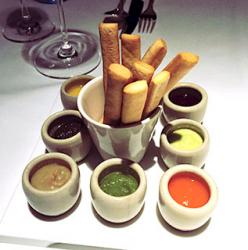 First, to amuse us, comes breadsticks and rather pancake like bread slices to be dunked in a variety of coloured dips. The idea is to try and guess what the dips are without referring to the crib sheet provided. This is quite fun and rather informative; I wonder how many the Ed of Food got right?
First up on the chestnut menu comes chestnut velouté with roasted butternut. It's a fine chicken bouillon luxuriously thickened with the chestnut (chestnut is a wonderful thickener), but what makes this already excellent dish stand out are small pieces of celery top.
They don't just add a contrasting texture but deliver a precisely judged hit of their own flavour. This is what high level cooking is all about, subtlety and precision not necessarily adventurous and challenging, we don't all want to be challenged at the dinner table.
The cooking at Rivea is deliberately French and Italian, the decor is designed to evoke, wait for it, The Riviera. The next course then is pasta, and you can't get much more Italian than that.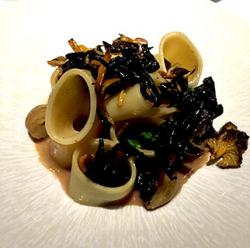 Looking rather like an exploded heart, paccheri pasta resembling ventricles, the dish is simply the pasta, chanterelle mushrooms, trompettes de mort and of course sautéed chestnuts all gently bathed in bouillon. It's gorgeous.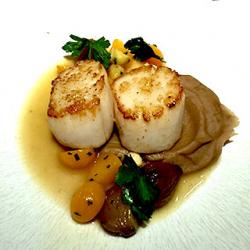 On to mains where J and I divide. I have the golden hued scallops with pumpkin, hazelnut and chestnut and he has corn-fed chicken breast, chestnut, shallots and girolles. I am less fond of the chicken, which is a bit large and heavy for the delicate girolles and chestnut, but the scallops are heavenly and perfectly cooked.
We've been drinking the wine included in the price, a Lirac – La Reine Des Bois Domaine De La Mordoree – 2014. Queen of the Woods seems an appropriate choice name-wise and its waxy texture and weight grip the palate very well.
And so to pud, a riot of pears of differing cooked textures adorned with crumble, chestnut sponge tuile and chestnut ice cream. It's a clean dessert, easy to eat and refreshing too, although clearly very complicated and time-consuming to make.
The chestnut menu runs until the 15th November and I do urge you to try it, because apart from anything else £45 is a bargain for this kind of high quality cooking in a restaurant that is really very fine looking. You'd be nuts to miss it.
Bulgari Hotel & Residences
171 Knightsbridge
London SW7 1DW
Try one of the dishes at home, with the recipe kindly provided to us by chef