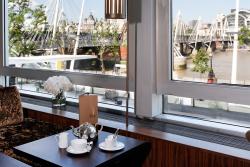 Going to the Royal Festival Hall is like going back to the house where I grew up. Our place wasn't quite as large, of course, but there are visual and nasal'madeleines' to set my memories in motion.
The Festival Of Britain was before my birth but the design changes it set off were in full effect by the time I made my appearance; our humble suburban semi was a shrine to the new and exciting possibilities of man-made fibres, grey concrete, plastic chairs and jet packs.
The Festival Hall has bravely resisted any real change inside and out; the staircases still open wooden steps scuffed and battered, the carpets in Humbrol grey. And there's still the miasma of Hampstead intellectualism hanging heavy over the leaflet stands promoting plays no one would ever want to see willingly.
And while it's been at least five years since I last went to Skylon restaurant, inside nothing has changed there either it seems. The UFOs still fly over the tables, the chairs are still the same comfortable old/modern and the view over the Thames still very fine. It's a space that's pleasantly, knowingly, frozen in time.
Except one thing has changed, a new chef is in place. Reviews before his arrival were seldom good and some were vicious. Clearly things had gone awry in the kitchen, could new Executive Head Chef Adam Gray' bring things back from the brink?
An early good sign is that I can eat happily anything on the tersely worded lunch menu, and I like the idea that three courses, any three courses, are £48. Fixed prices help people choose without prejudice,'Hey you want the swan in aspic? Fill your boots, it's all the same price.'
The dishes are British, no doubt about that. They are as British as Countryfile and arrive as good to the eye as Kate Humble. Beetroot and fig tartlet with peppered Yellison's farm goat's curd was not a tartlet at all, but a strip of fine flaky pastry with wafer thin slices of beetroot layered like oversized fish scales on top. The fig element was a swirl on the side and the cheese was delivered as an ice cream style scoop on top. The balance between sweet and sharp was almost perfect, the cheese just not having quite enough goaty tang for my taste. Nonetheless, a very good dish.
Glazed smoked haddock kedgeree risotto with warm granary toasts had that warm hug of creaminess, backed with al dente bite, that a good risotto has to have. The haddock was clearly naturally smoked as we didn't need sunglasses to look at it; the bad stuff has the colour of Homer Simpson and tastes about as good. Of course kedgeree is an adopted British dish, dating from the time when being in India was all the raj.
This was all good stuff, nothing pretentious, nothing clunky and good flavours laced through. Our two mains kept it up with Slow roasted Great Garnett Farm pork belly with a lobster and tarragon risotto for me and Lune valley lamb, glazed breast, crisp sweetbread, roasted cutlets with buttered  broad beans and creamy mashed potatoes for him.
The twin cubes of belly had good crackling, the trick to eating belly is to upend the pork and cut through from the meat side, that way you don't struggle and ricochet crackling shards across the room. A good ooze of fat came from inside the crackling and the meat was fork tender. The pot of risotto I first thought was too watery, but in fact the rice was perfect and the liquid a rich bisque with some generous hunks of lobster.
The lamb dish was prettily presented with each lamb component cooked exactly right, a manly dish that didn't overstay its welcome by being bulky. The plate was scraped in the British manner and J refrained from picking up the plate and licking it,as I swear I once saw someone do in France. Foreigners eh?
Desserts were again as pretty as we pleased;  warm soft dark chocolate pudding,white chocolate cream and coffee ice cream, was as rich as Bill Gates and as guilty as sin, while Caramelised apple creme brulee, granny smith apple sorbet sharply took away any lingering traces of lamb fat.
Smart, attentive but not cloying service and good recommendations for wines by the glass made this a smooth, enjoyable lunchtime meal. Timeless, in fact.