55-57 East Hill, Wandsworth, London, SW18 2QE Telephone: 0208 704 4680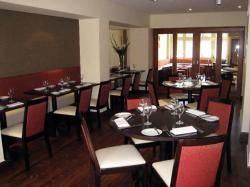 There are a couple of things everyone should have local to them, a good curry house and a relaxed bar/restaurant. Until recently Wandsworth residents had The Chutney to satisfy the former, but since the demise of Dittos Bar & Restaurant nothing has come along to replace the latter. There are a couple of restaurants around, who have had a difficult history in the past, such as the Roundhouse around the corner, and both on paper should have done very well, what with the affluent local residents and a lack of competition, but they never really shone and relied on the bars to survive. Coupled with the lack of parking around Dittos it wasn't too surprising to see the closed notices. Bizarrely the tables remained set and gathering dust for months after its demise until a note in the window proclaimed the imminent arrival of Steam, from Michael Fairbanks and Stephen Chenery, owners of Steam Wine Bar in the city.
First impressions were very good, they have moved the dining area to the back of the space and put in a lounge for drinking in the front, all of which creates a good atmosphere in the room and prevents the restaurant looking a little empty on quiet days.
Decent quality bread was brought to the table without prompting and although I don't drink the stuff, preferring mine from Monsieur Evian, tap water was brought without the customary raised eyebrow.
A nicely designed menu had a decent choice to satisfy my whole group, nothing particularly innovative about it but I always find that challenging the diners is best suited to the Hibiscus's of this world, while local restaurants should concentrate on well cooked and, dare I say it, seasonal dishes. Grilled scallops, black pudding with peas bacon and mint was to start. This could have turned out very badly, I had lunched at Sake Bar and Emporium that day, which is in my opinion the best Japanese restaurant in London, and had easily the best Scallop Sashimi I have ever tasted, so comparisons were going to be tough. However it came through very well, scallops were accurately cooked, a nice searing on the outside without being rubbery as is so easy to do, the black pudding worked nicely and what dish is not improved by bacon? The crubbeens, pigs trotter meat, rolled in breadcrumbs and fried, although very good didn't quite reach the heights of the scallops.
Main courses were brought and were pretty much what was expected, apart from their size, these were very generous portions. Slow cooked shoulder of lamb, mustard and parsley crust fell off the fork quite happily, the promise of a bit of my companions Lemon Sole, Capers & Black Butter never materalised due to him finishing it before I had a chance to claim my portion, so I presume it must have been good.
Dessert of Crème Brule and shortbread was slightly too much sugar and not enough crème, and the biscuit wasn't crisp enough, suggesting it had lain around a bit, but it was a minor point in the evening.
A bottle of Agustinos Pinot Noir 2008 at £20.50 seemed to please the whole table and was quite reasonably priced we felt. Service was very polite and good, even when my mother enquired what part of Australia the Kiwi waitress was from. All in all the restaurant deserves to succeed, they do what they do very well with confident, good quality cooking at a price that is very reasonable. One can just hope that the residents of Wandsworth come and support it in numbers.