Nick finds turkey isn't such a dumb bird after all when he reviews a pop up of a soon to arrive permanent restaurant serving a middle East take on the big beast.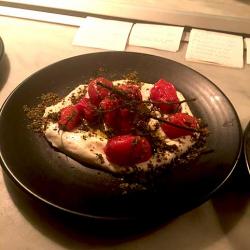 Who'd be a turkey farmer eh? Bit like being a pumpkin producer, one month of heavy selling and then back to watching the world go by.
Not that turkey meat won't sell all year round, although Bernard Matthews doesn't seem to be on TV anymore for some reason and Turkey Twizzlers fell victim to the curse of old Liver Mouth.
It's good lean meat though  and a husband and wife team, Amir and Limor Chen,  have decided to take turkey to the masses year round, the masses of hipster diners that is, with an idea called Strut & Cluck.
So where better to try a turkey pop-up than in the epicentre of beards and tight jeans, Shoreditch House? Invited to nibble on a leg or two, and painfully aware we seem to be the oldest people in the building, S and I shuffle up to the 5th floor restaurant wishing we were as young and as highly-paid as everyone else seems to be.
What a restaurant it is too, I gawk at the sight of two ferocious wood-fired pizza ovens even as I feel my face melting. The restaurant is still serving its usual menu while the Strut & Cluck team work around them.
No photography allowed at Shoreditch House restaurant, coasters on the table have the universally recognised  prohibition sign of a camera with a line through it. To be honest, it would be too dark anyway, so I snatch some shots of the dishes on the pass as Amir waxes enthusiastic about his organic turkeys  from carefully selected farms in East Anglia. So sorry about a bit of blur on these.
Amir tells me their dishes are inspired by Eastern Mediterranean home cooking and points some out on the pass:  Josper-Grilled Turkey Drumstick marinated in the family spice blend with roasted vegetables and herbs, tahini, pomegranate molasses and schug (a Yemeni , herby green sauce with coriander, parsley, garlic, spices and salt.  Slow-Roast Turkey Thigh on caramelised red onions and sweet potatoes and a Turkey Sandwich, grilled sourdough with hand-pulled turkey, pickled onion mayo, pickled eggs and feta-stuffed peppers.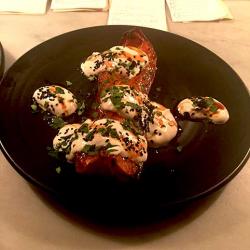 They look very good and so we hurry to a table to get stuck in, with first a dish of labneh with oven roasted tomatoes which goes down fast as we scoop it up with bread.
S has the turkey leg, which is big, as indeed turkey legs always are and which makes any eater look like Fred Flintstone. He's not much for exotic flavours usually, but is impressed by this big boy even though he finds the pomegranate seeds annoying. I explain to him that they must be supposed to be, otherwise why does the world persist with them? The range of flavours though is remarkable, the meat cooked in the roaring pizza oven is deliciously smokey.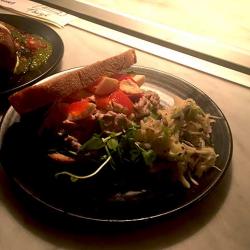 I've got a thigh, not quite as big as a leg but still not shy or retiring either. The sweet potato is gorgeously smooth with a hint of rough trade on the tongue and the meat, which I anoint with the jugged gravy, really doesn't need much more than that to shine. Oh and the skin, well that was very good. Very skinny.
We ended up with Levant Milk Pudding, sometimes known as Mhallabiyeh, with raspberry and rosewater treacle and pistachios. It's basically a thickened milk, thickened usually with cornflour and served hot. It's a classic home dish and very comforting, as such puddings usually tend to be.
So turkey. Is it the next big thing? Well why not, London's appetite for novelty is enormous and it has the advantage of actually being made up as a proper meal and not something to eat as a kind of emergency fuel. Let's gobble it up in 2016.
To find out more about Strut & Cluck visit: www.strutandcluck.com and follow @StrutandCluck on Instagram and Twitter.