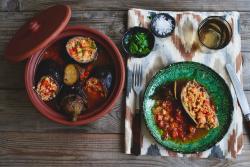 "Peace on Earth, can it be?" Asked David Bowie in 1977. Almost forty years on, we're still asking ourselves that same question.  
In the run up to Christmas it seems every bar, restaurant and nightclub is filled with one boisterous office party or another celebrating another year over and the new office gossip just began. Amidst the spray of champagne and endless holly-jolly music it's quite easy to forget that Christmas is a time for peace on Earth and goodwill to all mankind, and while we'll be spending time with our loved ones, there are people for whom that is simply not possible.
Enter Marley Spoon, who from 14th December until 11th January will be partnering with Syrian, Afghan and Pakistani refugees to introduce their native recipes into homes across the UK by way of their recipe delivery box service, with 100% of profits going to charity.
The recipe below comes from Hadi Nsreeny.Hadi grew up in Aleppo, the largest city in Syria. His family is truly passionate about cooking. He fled to Europe four months ago and hoped to find work as a website developer before settling down and starting a family. After he cooked with Ãœber den Tellerrand, he changed his mind: he now wants to find a job as a professional chef.
Hadi traditionally cooks this flavoursome recipe during the summer months, but this easy, healthy vegetable dish is meant to be enjoyed during all seasons.
Bulgur stuffed aubergine with tomatoes, pepper & yoghurt dip
Cooking time: 40-50 minutes
Number of portions: 2
Ingredients
4 aubergines

20g parsley

2 garlic cloves

1 onion

1 red pepper

150g bulgur wheat

1 tin chopped tomatoes

1 tomato

2g dried mint

70g tomato paste

1 tin chickpeas

olive oil

sugar

salt and black pepper
Method
Scoop out aubergine
Put the bulgur in a medium sized bowl. Cover with cold water and leave to soak for 15mins. Cut the upper third of the aubergines off and set aside for later. Now use a spoon to carefully scoop out the inside of the aubergine and season the hollow aubergine with salt and pepper.
Prepare ingredients
Peel the onion and garlic and finely chop. Quarter the pepper and remove the seeds, cut roughly into 1cm pieces. Finely chop the tomatoes. Drain and rinse the chickpeas in a sieve. Finely chop the parsley.
Pan fry vegetables
Heat 2tbsp oil on medium heat. Cook the onions and pepper for 5-7mins, until translucent. Remove from the heat, add the tomatoes you chopped earlier, chickpeas, drained bulgur and parsley. Season well with salt and pepper and add another 2tbsp oil.
Fill aubergines
Now fill the hollow aubergines with the tomato-bulgur mixture, making sure to pack the filling tight. There might be some filling left, which can be served with the cooked aubergine at the end.
Close aubergines
Trim the aubergine tops slightly and press into the aubergines to shut them tightly. Place the aubergines in a small, high saucepan so they stay upright. Then combine 700ml water, with the tin of chopped tomatoes, garlic, mint, 1/2tsp salt, 1tsp of sugar and tomato paste.
Cook aubergines
Pour the tomato-water mixture into the saucepan with the aubergine. The aubergines should be completely covered in the mixture, add some more water if not. Cover with a lid and simmer the aubergines for 30-40mins, until they're cooked through. As soon as they are done, divide the aubergine between plates. Serve the extra filling on the side and some of the sauce over the top.