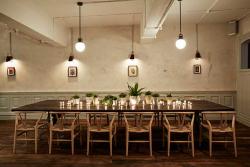 It felt like all of the  West London jet set turned out on Thursday night to toast the opening of Richmond's latest bar and restaurant,  Number 1 Duke Street. The mayor of Richmond was among the guests who flocked to see   the third site from bar and restaurant group, Darwin & Wallace, which  retains their distinctive style.
Richmond has seen a wave of new openings over recent months but No 1 is tucked away between Richmond's leafy Green and the bustling Kew Road , on a site formerly occupied by a funny old pub called The Lot.
No. 1 Duke Street joins award-winning No.11 Pimlico Road and No.32 The Old Town, (Clapham) which have also been made over by the group.
Using a palette of dark greys, sheer whites and pale peaches, interior designer Lou Davies of Box9 and architect Lionel Real de Azúa of Red Deer were taken on-board to help create a setting  which they describe as  more'home' than'high street'. Notable features include a  games room, sociable courtyard and open kitchen. The idea is to entice the good folk of Richmond to linger and  socialise, with  the lively bar promoted  as a second home to local residents , couples and groups, yummy mummys and sports fans.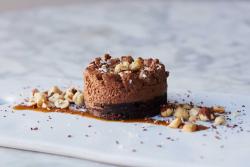 This lies at the core of No.1 Duke Street's menu: a range of smaller dishes and sharing plates (from spiced crab & avocado crostini to pork and fennel meatballs)to  jazz up any post-work drinks. An excellent selection of craft beers will  tempt rugby players and fans alike –including the zesty Wu Gang Chops The Tree and Moncada Brewery's fruityNotting Hill Blonde.
 For ladies who lunch, an expansive wine list is available and children can order sherbet-infused,house-made lemonade.  The unique cocktail selection incudes favourites such as Pineapple and Sage Mojito and Passionfruit Capirinha are coupled alongside specials. Pear and Ginger Toddy and Hot Peanut Butter Rum take centre stage during the opening winter months
On a cold and blustery November day, I was also  pleased to note a fantastic hot chocolate menu (including an indulgent white chocolate, cardamom and Coole Swan option) is available
Foood offerings will  change with the seasons ( for example lamb and apricots in springtime; beef and blackberries in winter).
Managing Director, Mel Marriott says, "I am incredibly excited to have opened our third venue in my beautiful home territory of Richmond. At Darwin & Wallace we always aim to avoid the obvious in all that we do with our properties and this one is no exception as it is architecturally challenging. Our strategy is to open unique sites in London's local villages and really take a tailored approach to each new space, drawing inspiration from each area's own individuality."
Mel told me that her next project will be  down the road in Chiswick, where she has already identified  the site which is up for  the Darwin & Wallace make-over.