You don't get much more OTT glam than this fancy restaurant in partnership with Flavio Briatore. And now there are live music nights too.
Japanese and Italian on the same menu? Car crash alert klaxon, together with the sound of broadsheet restaurant critics sharpening their daggers. Their contractually required 'one trashing a month' has surely just come out with its hands up?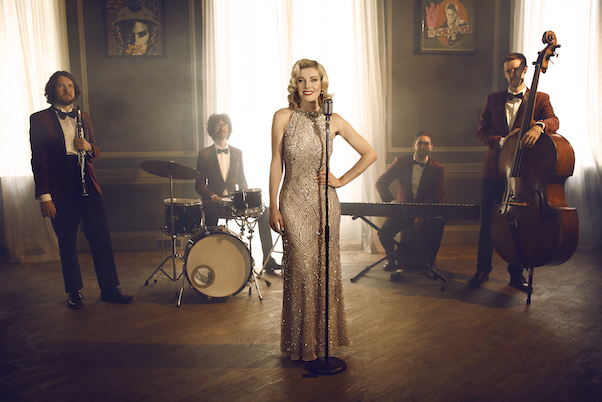 I'm still pondering what's in store for us when we get past security and the velvet rope, and get inside to a cool lobby. From here it's up a lovely staircase and into a monochromatic room exuding style and class. I wish I could say the same about me; all of a sudden I feel a bit more ordinary than usual.

That's because the clientele, both men and women, are mostly young, beautiful, and clearly not short of a bob or two. Some look like they could be picked to appear on Love Island, I think perhaps some already are.

It's a friendly vibe though, it's good to feel special once in a while and the staff certainly make us welcome, and there's no trace of 'what are YOU doing here?', quite the opposite in fact.

Set over three floors Sumosan Twiga is both bar and club combining Asian and Italian food from international favourite Japanese favourite Sumosan and the Italian Twiga.

Our table is cosy, and the chairs are angled so that we both face the far end in order to see the live music due to start shortly. Sumosan Twiga has live music on various evenings, check their website for full details.

So what about that menu eh? Well it's a bit troubling because I want everything on both menus, even though my gut literally says stick to one or the other. In the end we decide to mix up and share.

Burrata with "datterino" tomatoes, veal tonnato with capers, wasabi prawns with mango and golden passion fruit salsa and Gyoza duck confit with ponzu for starters.

The dishes arrived all at once, so after some thought we went Italian first. A superb burrata partnered with, for once in my experience, excellent tomatoes. I don't know where they were sourced from, but they were as good as the ones I grow myself, and that's a big compliment.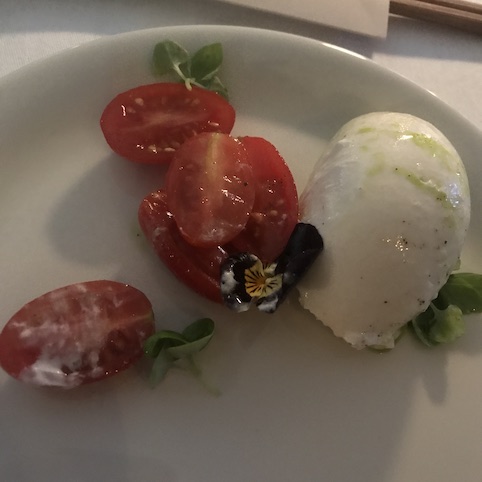 Next the veal tonnato, a dish originating in Piemonte, it's always one of my favourites. Perfectly thin slices of 'rose' veal coated in a sauce made from capers, parsley, anchovies, eggs and tuna all blitzed together. It looked brilliant too.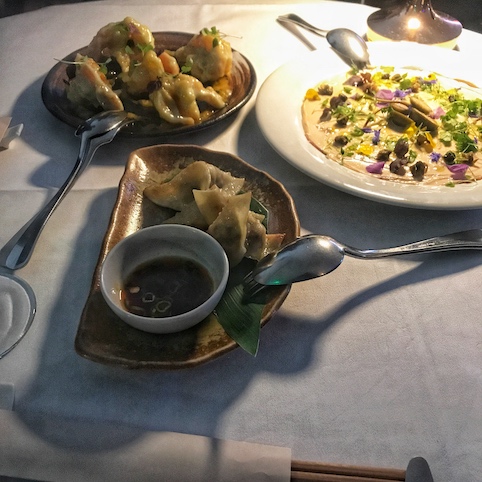 The gyozas could have almost passed for Italian, the duck confit would have been just as superb bedded in ravioli. The prawns were massive, delicious and perhaps just a little rich, not that we didn't wolf them down. The wasabi kick was a light tap, no watering eyes.

A pause while the cool band struck up, and then a big plate of varied Maki rolls, all of them perfect. Especially the salmon and avocado and sesame seed, and the T&T, tuna tartar and creamy truffle, fried leek.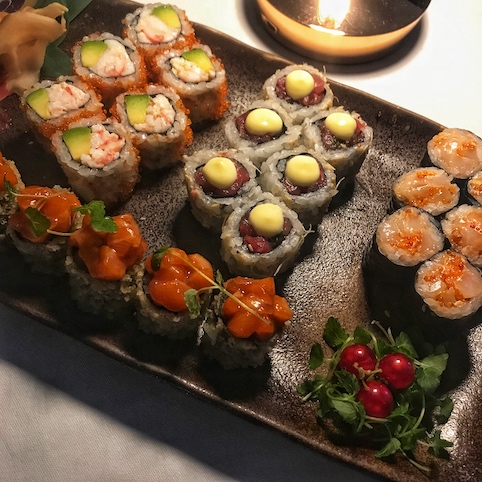 My improving chopstick technique meant I only belly-flopped one maki, with an embarrassing splash, into my soy sauce dip. It wasn't good news for our table cloth, though.

And now on the home straight we had home-made burrata and winter black truffle ravioli, butter sauce and sage. This wasn't hugely exciting; winter truffle has little aroma or flavour and the butter was a bit too generous with not enough sage.

On the other hand, the seabass fillet was excellent, just pan-fried with herbs and oil which is all sea bass really needs. Firm, thick flesh and I did like the deep fried artichoke that came with, I shall try that at home despite my pathological fear of deep-frying.
It was light enough to let us still fit in dessert, a tiramisu well up to scratch (but not boozy enough, but for me they never are) and some truly excellent mochi alive with fresh fruit flavours. I love that leathery, in a good way, rice skin on a mochi.

With the live band still going strong it was time for us to get going.
Sumosan Twiga is certainly a one of a kind place, but I would personally only go for one menu or the other, having tried mixing both we found it interesting but not ideal.

However as the plates are all sharing you can always raid your neighbour's plate if something takes your fancy

Atmosphere is moneyed, young and glam. Service is attentive and cheerful, prices are what you would expect, high, but you don't have to push the Sunseeker out if you don't want to.
Sayonara and arrivederci, but I will be back.


Sumosan Twiga, is delighted to announce it will be launching live music nights from Tuesday 31st August with the highly accomplished, Irish born performer, 'Sarah and The Jazz Band'.
Every Tuesday from 6:45pm – 8:45pm guests at the iconic venue will be able to enjoy the smooth and melodic notes from the band, providing a multi-sensory occasion and a night of entertainment.
The Welcome Back Menus
During lockdown, the Sumosan Twiga kitchen developed a brand-new offering for the reopening. The Welcome Back Menus celebrate the best of Sumosan Twiga – with a choice between the renowned Japanese dishes; Italian classics; or a selection of both.
Welcome Back to Sumosan: A Japanese tasting menu of Sumosan's much loved dishes. £45pp, served from 6.30 to 8.30pm.
Welcome Back to Twiga: A tasting menu focused on Italian cuisine. £45pp, served from 6.30 to 8.30pm.
Welcome Back to Sumosan Twiga: The ultimate celebration of both Japanese and Italian dining. £60pp, served from 6.30 to 8.30pm.
165 Sloane St, Belgravia, London SW1X 9QB
Opening Hours: Wednesday to Saturday, 6pm – late. Kitchen closes at midnight.
www.sumosantwigalondon.com / @sumosantwiga
Reservations can be made online now or by calling the restaurant.
0203 096 0222