I haven't been to The Globe Theatre since a school trip circa 1996, and from what I remember it mostly involved walking around in the rain for a good 7 hours, and then standing knackered and soaked in the theatre for what seemed like another couple of days.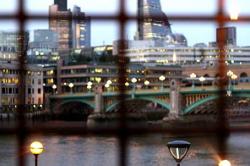 While my 12 year old self only seems to have retained the negatives, my 30 year old self was very happy to go back and spend some time there, namely in the beautiful adjoining restaurant, Swan, with my old friend Emily. 
Swan is easily accessed from London Bridge where I came into, it's a short walk along the river. I arrived at the busy ground floor bar which was filled with a mixed crowd and had a lively, buzzy atmosphere before we were shown upstairs to the light, open restaurant. The interior is all paned glass, pale wooden tables and huge, beautiful floral displays and the staff are delightful, going above and beyond from the beginning.
The menu changes regularly and there is a strong focus on using British, and especially local suppliers. When I visited there were several items from London suppliers on the menu and the seasonal focus is strong. Ingredients included Cobble Lane cured bacon, Ted's parsnips from the Ted's Veg stall in Borough Market down the road, Hanson & Lyderson smoked salmon, Sipsmith's Sloe Gin autumn fruits and Meantime Chocolate Porter poached pear. 
I love it when provenance is specified on a menu, it gives a rosy glow that goes some way to offset the guilty decadence of inhaling multiple courses of delicate and delicious fare in beautiful surroundings, which feels extra luxurious on a Tuesday.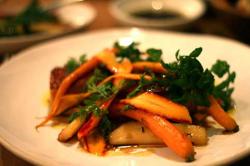 I started with the venison liver with aforementioned Cobble Lane bacon and barley, which was perfectly cooked; tender and meaty without that horrible liver-y texture that puts everyone off. Emily had the mushroom soup which was creamy and earthy, with a variety of mushrooms and nicely seasoned.
I plumped for Turner & George slow roast pork belly for the main. I'm fussy about pork but had faith, which was rewarded.  The meat was tender and juicy, topped with thick, crunchy, salty crackling. Parsnips and carrots were soft but with a bit of bite, and there was a sweet caramel apple sauce that tied it all together. 
Emily went for Dorset crab, baked in the shell with chips and salad. I love crab and this one was light with texture from chunks of white meat and deep sea-favour from the brown meat mixed in. Lovely. We washed it all down with a bottle of Thistle Ridge – a light, crisp Sauvignon Blanc from New Zealand. I'm no wine expert by any stretch but it managed to compliment both the crab and the pork nicely. 
The light faded as we ate and the lights along the river came on gradually with St Paul's lit up in all its glory, which we had the perfect view of from our window table. The wine was delicious and the company a joy. I think that's pretty much all you need for a truly lovely evening and dinner at Swan was exactly that – ideal for a special occasion or just a normal Tuesday if you're lucky.